My wife and I caught the 12.45 flight from Cardiff to Newcastle yesterday to pick the car up from Woodport. A very uneventful flight, and trainride to Durham. We then got a taxi to the business park where the Woodsport premesis is located where my car sat, waiting to go.
Paul and Ollie gave us a hearty greeting and I was shown to the car to see the engine and other work that had been done to it.
Now I've been in a fairly priveliged position in the past, to more or less have carte blache with a bank account to go as wild as I wanted, and as many of you have previously seen, the effect was pretty good, but.... I can honestly say, regardless of cost, I have never seen such a complete and stunning piece of work, as the job that Paul, Anth and Ollie have done to my car. The level of workmanship that has gone into this coversion is beyond belief. When Paul lifted the engine cover for the first time, it truly took my breath away.
We talked for a few minutes, and Paul went over what I should be doing over the next day or so in terms of what to look for, and how to treat the newly installed engine. Finally, I could hold it in no longer. "I have to hear it Paul. Do you mind if I start it up...?"
With a turn of the key, the motor fired up. The tailpipes burbling merrily. Paul reached into the bay after the engine had warmed a little and twisted the throttle linkage...
...Oh my god.
I've heard some amazing engine sounds in my time, that have come from some stunning machinery, but I think I'd be hard pushed to think of one that sounds anywhere near as good as this. I simply can't have asked for anything better.
Here's what you get for your money gentlemen...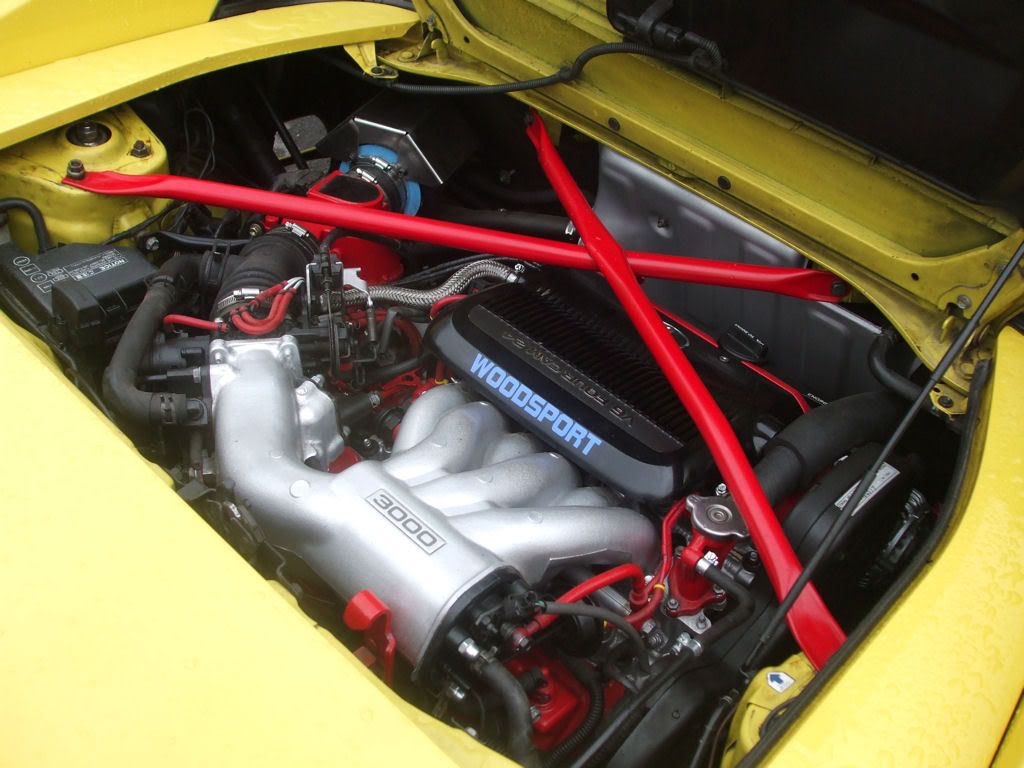 ...I think you'll agree, it's worth every penny.
And so the time came for us to wish the lads fairwell, and embark on the long drive home. The journey back to our village of Edwardsville in South Wales is more or less 350 miles, give or take a yard or two, and believe it or not, I was looking forward to every single mile.
We pulled out of the yard and headed for the petrol station to fill up. I checked my wallet, and found that I only had £40 on me, so I thought i'd put £30 worth in and see how it went. The other tenner went on snacks for the journey.
The gauge read a couple of marks past half way, and going on what I'd read, and been told about the V6's economy, my wife and I were expecting to pull in to another service station around a hundred miles or so down the road. Not so... we were still on a quarter of a tank after 170 miles!!! Believe it or not, we did the whole journey using just under 3/4 of a tank of fuel! I've still got over quarter of a tank to use for work! I'm utterly stunned. We worked it out to have returned somwhere around 35 mpg for the whole trip! My wife's 1.4 Clio would have used more fuel!
The other obvious plus point of this conversion, is the different level of performance the V6 gives to the MR2, and what a huge difference the motor makes to the driving experience. To say it transforms the car would be understatement of the millenium. Where previously, the power had to be wound on during the way into a roundabout to spool the turbo, the six can be feathered on the way in, and it's responsiveness and huge torque curve spits the car out the other side with a fabulous wag of the car's tail, as the rear tyres light up under the strain. It makes every corner a delight. ...and as for gears... who needs them! Overtaking is a complete breeze. Just plant your foot, let the sound of that wonderful V6 overture wash over you, and sail past as many cars as you like, all in the blink of an eye.
In all my years of MR2 ownership, I have never enjoyed a driving my car so much.
Huge thanks go to Paul, Anth and Ollie for all your hard work. You've made an old man, very young.
EarL.
Just a little feedback for y'all.
I've been driving the car now for best part of a fortnight, and can honestly say, the thoughts of tubbies are now long gone. This is definately how Toyota should have built the car in the first place!
The instant power, the sound (and it would seem the economy too) are all hugely different to that of the turbo. Different, but in a good way.
I used to enjoy a quick blast in my old car, but I just simply don't want to get out of this one! It's totally addictive. A couple of mates have been completely converted by having been a passenger in it too. Paul, expect a couple more enquiries very soon.
I pulled into a petrol station the other day behind my friends TVR (he needed fuel, not me), and a couple of guys in a stunning Silver MkI Golf GTI came over for a better look. The driver of the Golf commented that my MR2 actually sounded better than the Trevor! When I showed them the engine, they were gobsmacked! At first they thought the small chrome V6 badges I have on the car now were fake, but not after I'd popped the lid.
Suffice to say, I'm hugely happy with how the car has turned out. And have the utmost respect for the guys at Woodsport for turning out such a wonderful creation