Toyota MR2 Mk2 Engine Conversions
Details

Hits: 21579
We can also install the 3s-gte Mr2 turbo engine into a normally aspirated car, please ring me for options and pricing as there are a few different options to choose from, thankyou.
Details

Hits: 136376
The 2GR-FE, 3.5ltr V6 conversion
We have completed eight of these conversions up to now (1/3/11), into the Mk2 MR2 chassis.
For those of you who don't know this engine it is normally found in the Lexus RX350 or the IS350 models. It produces 270bhp in standard form (at the wheels, more like 300bhp at the fly), that is running with both CATS and the stock ECU.
However all Woodsport conversions leave us running 325bhp and 285lbs/ft of torque, which is 50bhp more than the Lotus Evora (same engine) 
Here is the 2GR in the early stages of installation....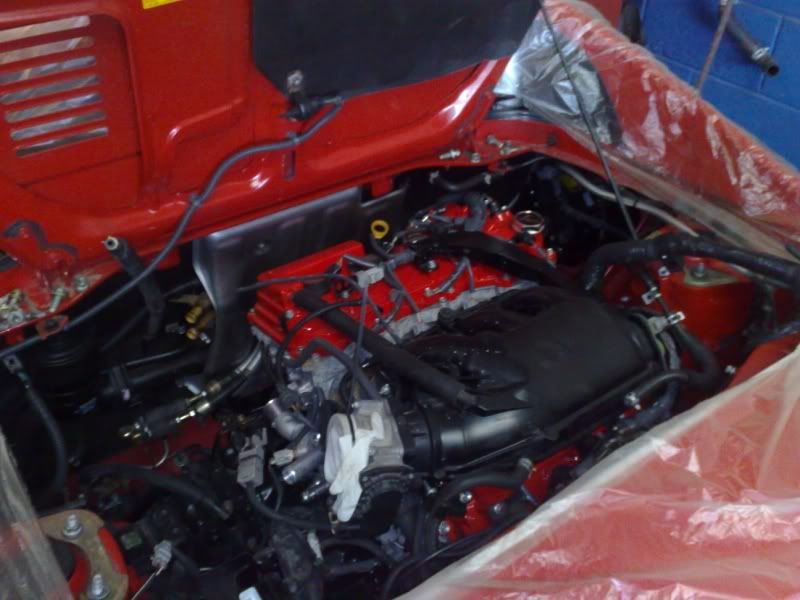 And a video of it running.
[youtube:http://www.youtube.com/watch?v=J4K-rq1eqlo]
For further details of pricing and options on this engine please email or call me.
We can offer the amazing 2GR-FE engine in all 3 marques of the MR2, so Mk1, Mk2 and Mk3 are all possible options although each has its own level of difficulty and price.
A supercharged option for this engine will also be available in the coming months, according to the supercharger kit's developer. This will be on the stock ECU and injectors so even higher BHP numbers will be achievable using a standalone ECU and injector upgrade.Updates will appear here as they happen.
-------------------------------------------------------------------------------------------------- 
Another 2gr-fe equipped Mk2 Mr2 has now been completed, this one is in a 355 replica kit and it goes like stink! Really sounds bang on the button for a Ferrari replica as well, and is running with a Berk silencer.
[youtube:http://www.youtube.com/watch?v=M0dSCspFo_A]
95% completed engine bay shot below.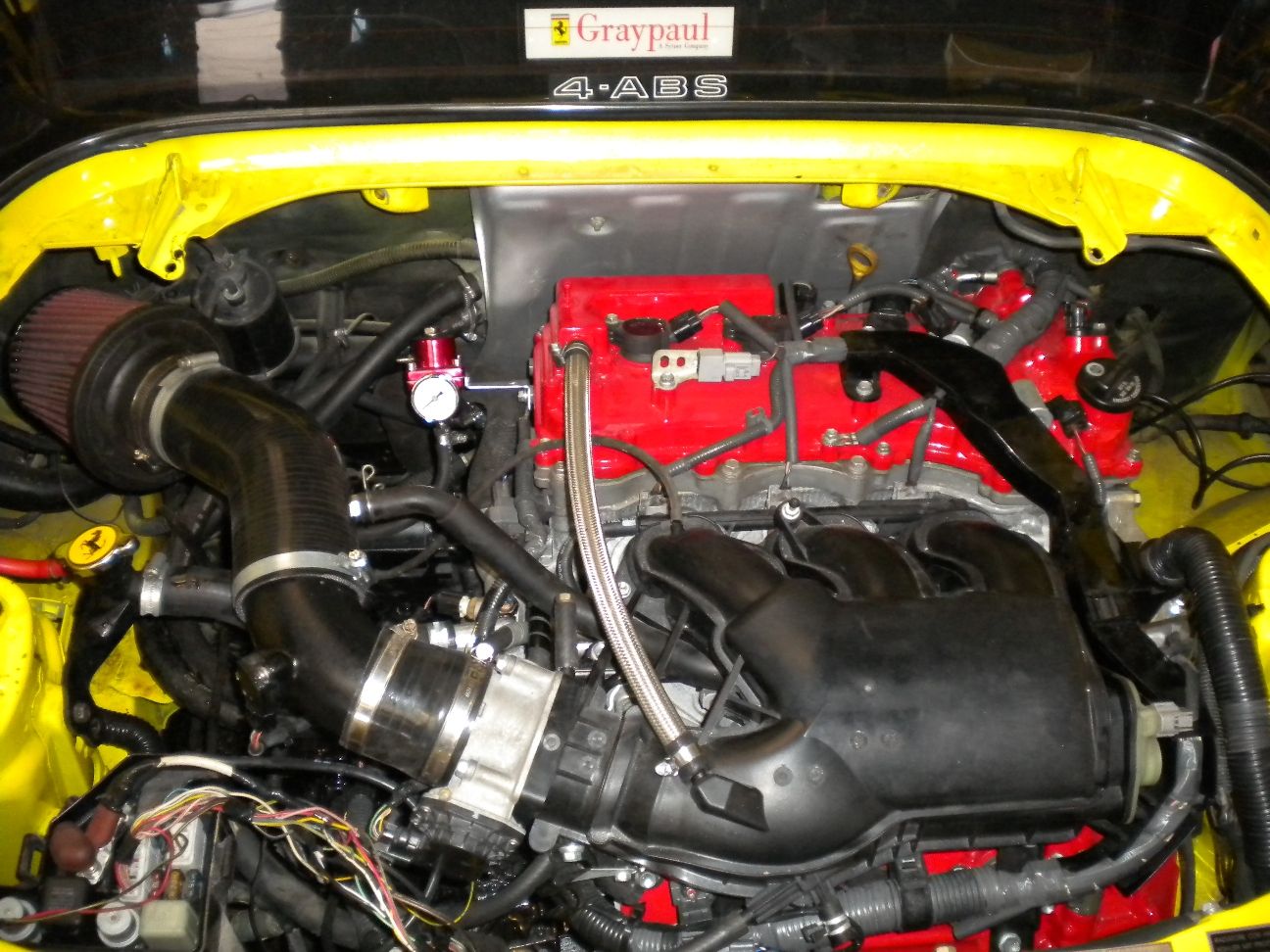 [youtube:http://www.youtube.com/watch?v=R1epvv7R1po]
Here is a Mk2 in the US with a 2gr-fe fitted, no clutch dumping required, it will just do this with throttle control there is so much torque available.
[youtube:http://www.youtube.com/watch?v=zJO_2wz9wk8]
The recent dyno of this conversion showing 325 bhp and 285 lbs/ft of torque, the lower graphs are of the previous 3vz-fe V6 at 215bhp.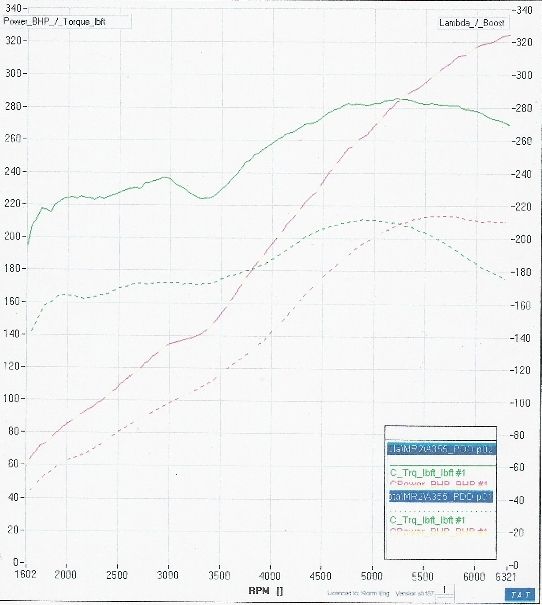 Our latest project is installing this crazy V6 engine into a Mk1 Mr2, full details of that will follow.
Details

Hits: 34212
Mr2 Mk2 V8 conversion 
We are about to undertake our first customer V8 Mk2 Mr2 build, using the Audi 4.2ltr AHC variant (340bhp) and 6 speed gearbox. This project will eventually be a Ferrari 430 replica but will leave us as a fully fledged Mr2 V8.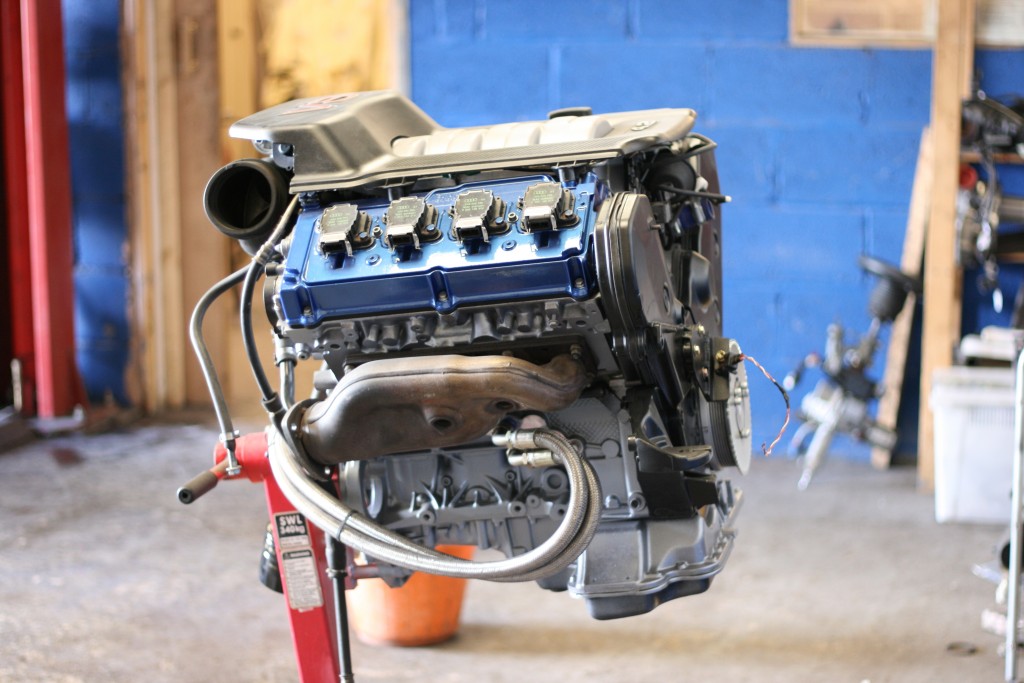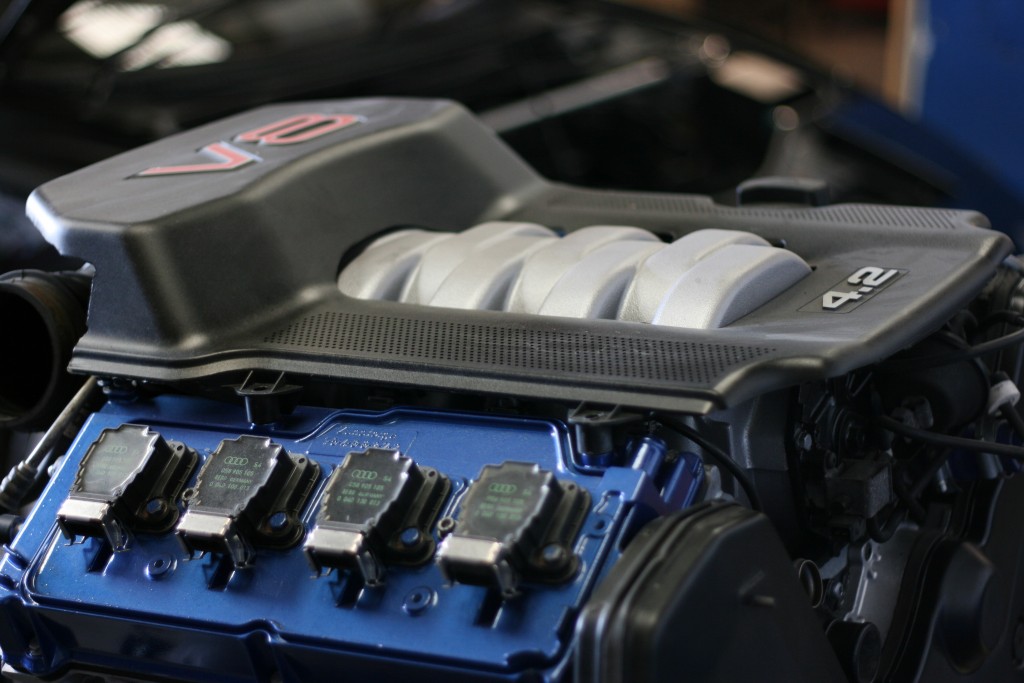 Full details will appear here as they happen, please get in touch regarding pricing and timescales etc. 
Details

Hits: 301948
MK2 with V6 powerplant (1mz-fe)
So why go V6?
A question thats asked a lot and a good one too,the V6 is toyotas best kept engine secret.They tucked it away in the big cruiser of the range the toyota camry,if only they had the foresight to use this unit in the mk2 like we are doing today! It really doesnt serve its full purpose in the heavyweight camry and is further strangled to death on a horrible auto gearbox.Having said that it still hauls the camry to 60 fairly quickly.But its in the mk2 Mr2 where it comes into its own.The V6 in stock form,simply transplanted from camry to mr2 with no mods,will give you stock mr2 turbo performance but with big differences. (this performance claim is proven)
The differences being driveability,bottom end torque,silky smooth power delivery,an engine that purrs at idle and then roars like thunder on full throttle like only a v6 can.Quite simply the noise these things make is to die for but by far the best advantage is the throttle response....no lag with these fellas! The torque curve from 2000rpm to 2500rpm is practically vertical.
What are they like to drive?
The V6 in a mk2 totally transforms its behaviour on the road.Mr2 engines in general need plenty of revs to get them off the mark,this leads to clutches burning out quicker than in other cars,blame yamaha's engine design for that one! With the V6 you can drop the clutch in 2nd gear and still pull away with minimal revs.On the road its very civilised,will happily cruise all day without you even knowing its got an engine in there at all (Mr2 owners that have test driven our V6 demo car have commented they couldnt hear the engine running at junctions).But when opened up it will pick up from 4th gear at 20mph and launch hard as the revs rise,no need to change down to get power out of this engine,it throws you back hard and keeps you there.
On top of that theres total reliability,just look at any mr2 forum's mechanical section,littered with engine problems and in particular turbo engine problems.I love the 3s-gte but it does have its reliability issues,theres exceptions to every rule of course but they do seem to have problem areas.O2 sensors,AFM's, underboosting , overboosting , turbos blowing up,knock sensors failing the list goes on.....none of that nonsense with the V6 . What you get is a bulletproof (that word's used a lot for some engines but this one really is) engine that will go on for 300k no problem,no issues at all with cranks/rods/pistons or rings...indeed we have seen a 200k+ engine with perfect bores and still with the factory honing marks!
If theres a weak point with the V6 its head gaskets, they are known to fail from 100k+ but we replace these as routine on every conversion so its not an issue.
So thats a little insight into why people go v6,it transforms your mk2 into a silky smooth cruiser and into a snarling beast when opened up.Turbo performance with NA response and reliability.
What levels of performance can i expect?
Theres been a lot of debate about this recently so i thought it best to clear it up.Simply put a stock v6 will perform to stock rev1/2 turbo levels,i believe the stock turbo does the 1/4 mile in 14.6 secs...here is a video of one of our TB members returning a 14.2 sec 1/4 mile.
MK2 V6 over the 1/4 mile (youtube link)
Can my car be converted?
Yes,any mk2 mr2 either NA or Turbo, 5s-fe,3s-ge or 3s-gte can be converted,it will simply use your existing gearbox and driveshafts.Both NA and Turbo gearboxes will handle the power of the V6 easily.With each conversion a new clutch is also fitted.We are currently looking into wether the V6 can be fitted onto the mk2 auto gearbox too although this is a limited market and unlikely to be popular.
Can i keep my air con system with the v6 swap?
Yes,the camry v6 has an air con pump fitted as standard,but it will mean custom pipes being made to connect it up and will need recharging so it will add £190 to the cost of the conversion if you want to keep it (£115 for re-gassing and £75 labour/pipe modification).Most v6 owners are opting to ditch the air con as it costs a few bhp,but retaining the air con is not a problem.
If i have a turbo or NA mk2 exhaust fitted with the conversion will any future exhaust still fit?
Yes,we modify the v6 downpipes so that whatever silencer system is first fitted it has the same attachment point....meaning if we do a v6 conversion and use an NA rear silencer then any NA rear silencer will bolt straight up afterwards from then on.
Likewise with a turbo exhaust,if i fit a turbo mongoose for example,that could be removed in future and ANY other turbo rear silencer replaced,its part of the swap that i insist on doing so that v6'ers arent constantly needing custom made exhausts in the future.
If an NA exhaust was first used and you wanted to convert to a turbo one the v6 downpipe would only require minor modifying.
Does anything need cutting? firewalls etc?
No,the V6 will fit in the mk2 bay without modifying any firewalls or chassis rails,apart from the drivers side engine mount on the engine that needs fabricating nothing is altered on the car itself.In fact once fitted they look like they belong in a mk2 engine bay.
Theres about 10-15 more man hours involved in getting the TRD charger to work on this engine and as a result will require around £300 more in labour to go down this route.Power will be in the 280bhp region at 4psi.
Can the cambelt be changed easily with a v6 in an mr2?
Yes,there is more room to change the belt than when the v6 was in the camry it came from.There is about the same space to change the timing belt as a normal 3s-ge engined car.
What other supporting mods will i need ?
None really....but upgrading the brakes to late spec is always better with an engine upgrade.Also running wider tyres on the rear might be wise! I use 225's but 235 or 245 would be ideal.
Will my gauges and warning lights work as before?
Yes,all of your gauges and lights will work,even the check engine light.The tacho signal is getting a 6 pulse signal instead of 4 so it reads higher than normal but we swap the camry tacho circuit board into the mk2 clocks to rectify this.On turbo models having the conversion done your turbo boost gauge will no longer work for obvious reasons.
What level of finish can i expect?
Each engine is fully degreased and jetwash blasted clean,then repainted and detailed to whatever colour scheme you like.Its a full nut and bolt detailing job and all major components are done.....heres the typical level of finish on a v6 prior to install.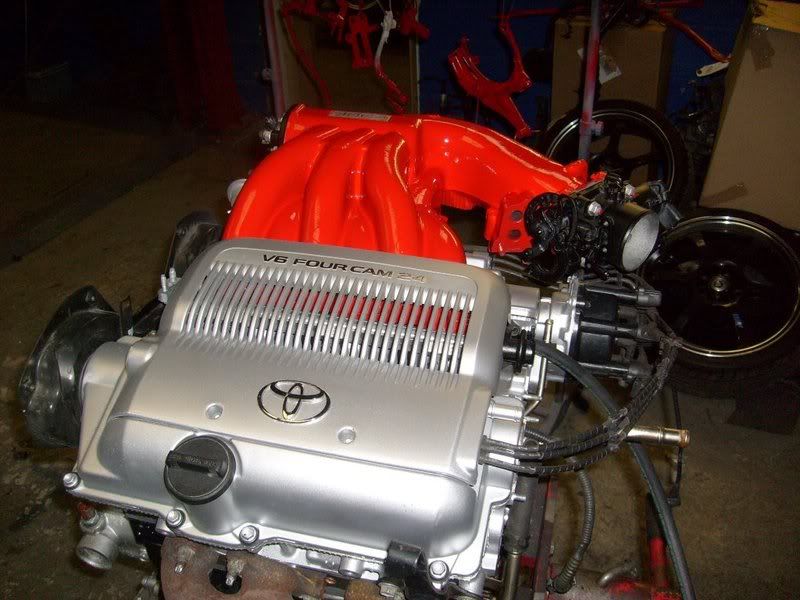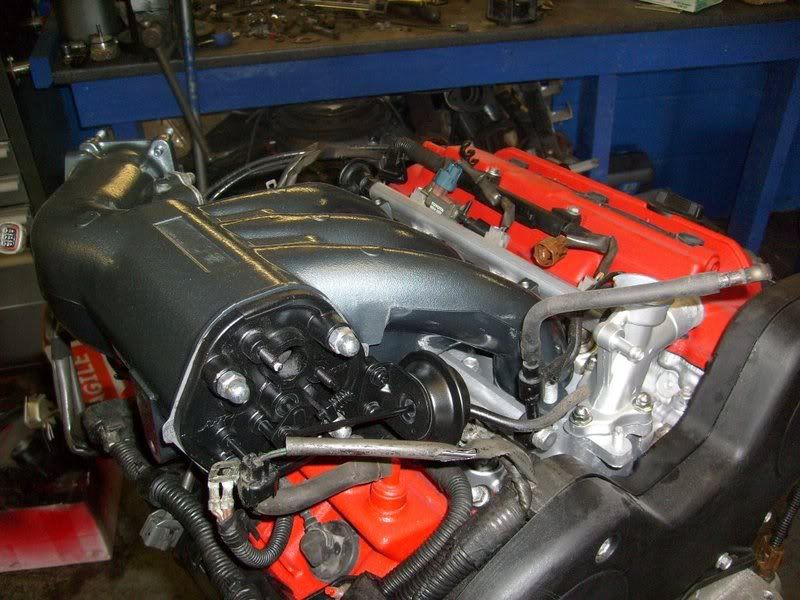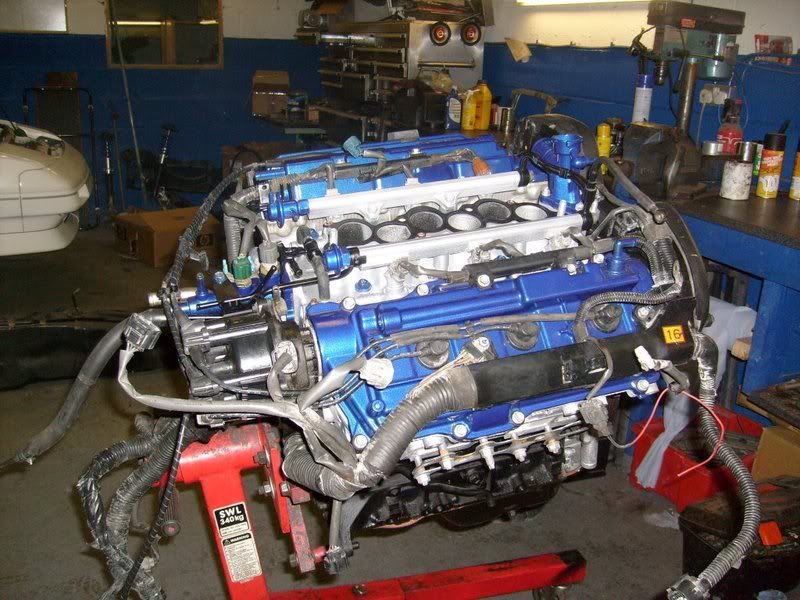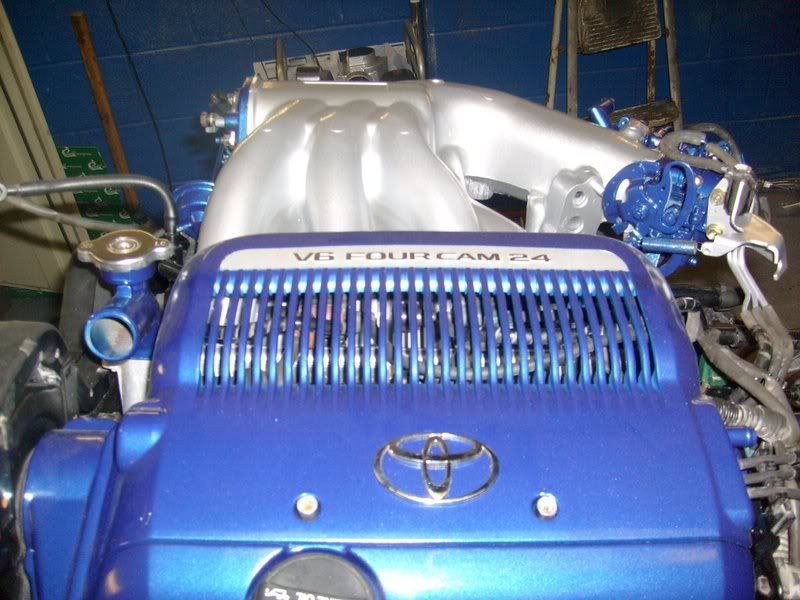 How will it affect my insurance ?
Not as much as you'd think,we have received quotes that are only £50-£100 more than a 3s-ge NA mk2 model and actually cheaper than insuring a tubby as the engine isnt rated that high (200bhp/200lbs/ft).
All of the packages come with the following.
• V6 engine degreased,engine detailed,both head gaskets replaced (wether they are gone or not),cam belt changed,new oils,filters,antifreeze etc.
• A new clutch kit,either NA or turbo depending on what model mk2 you have,supplied and fitted,if you are happy with your current clutch then the job is cheaper by the cost of a clutch,but of course its always better to fit new on a job like this.
• A custom flywheel supplied and fitted
• A bespoke drivers engine mount supplied
• Mk2 engine bay cleaned and if need be repainted in stock colour or colour of your choice
• Induction kit and AFM adapter ,or if you want to use your current one?
• Exhaust downpipes modified to fit your current exhaust system or any other exhaust system you may wish to have installed.
• Tacho modified and calibrated to accurately read the v6 engine speed.
All engines now have fully rebuilt bottom ends with every conversion. 
Some completed conversion pics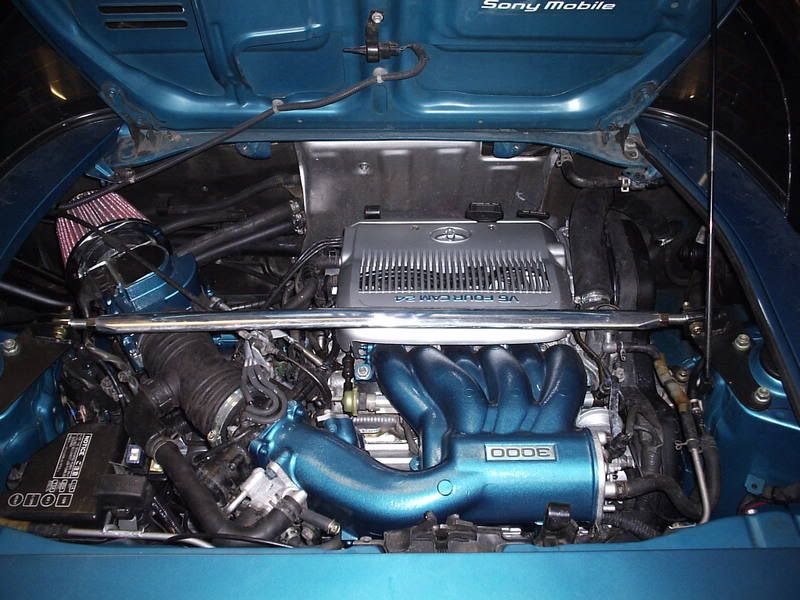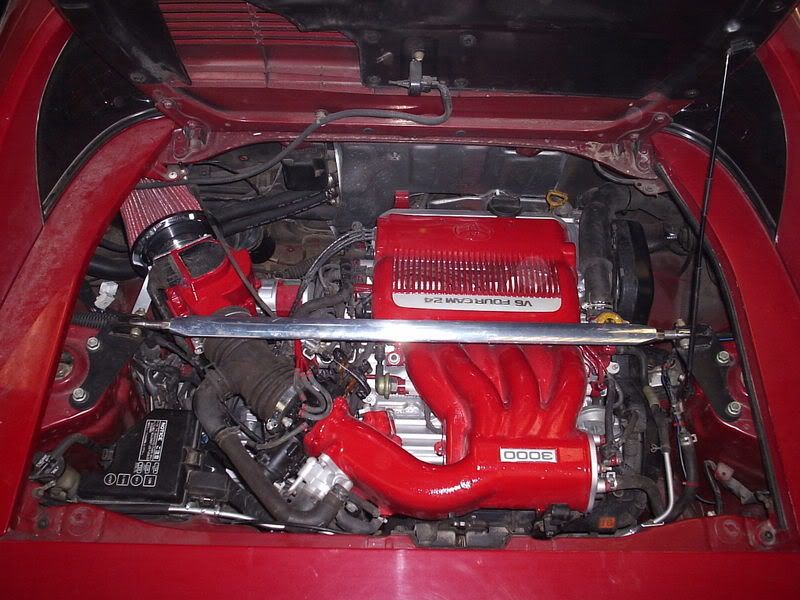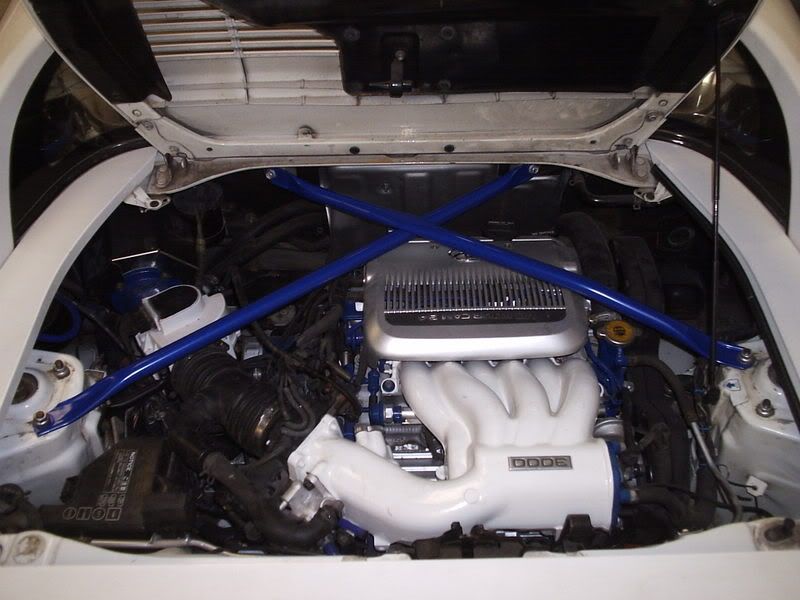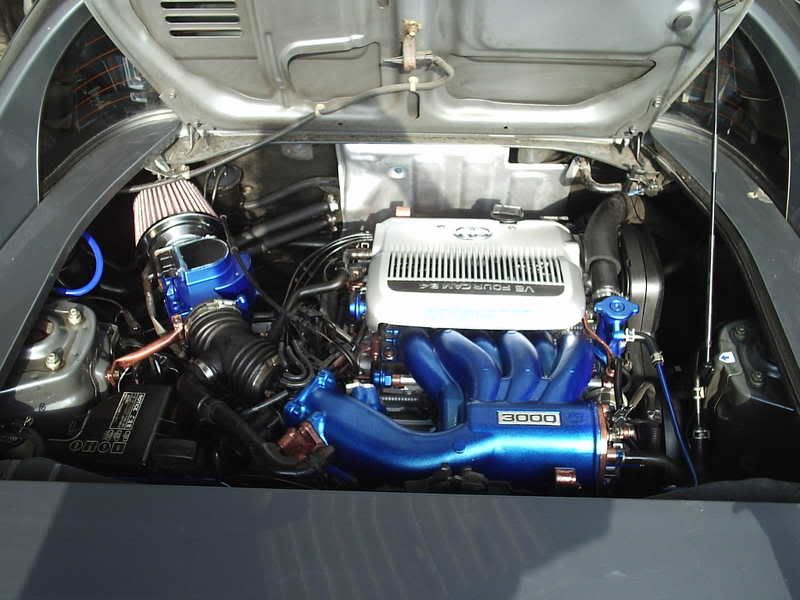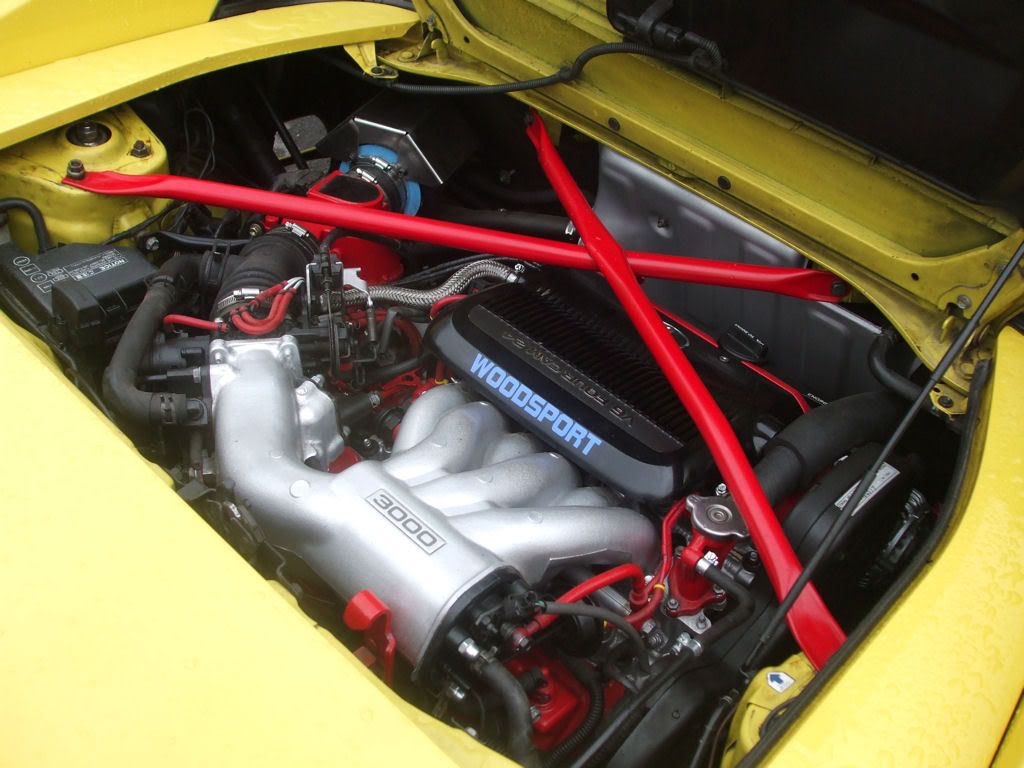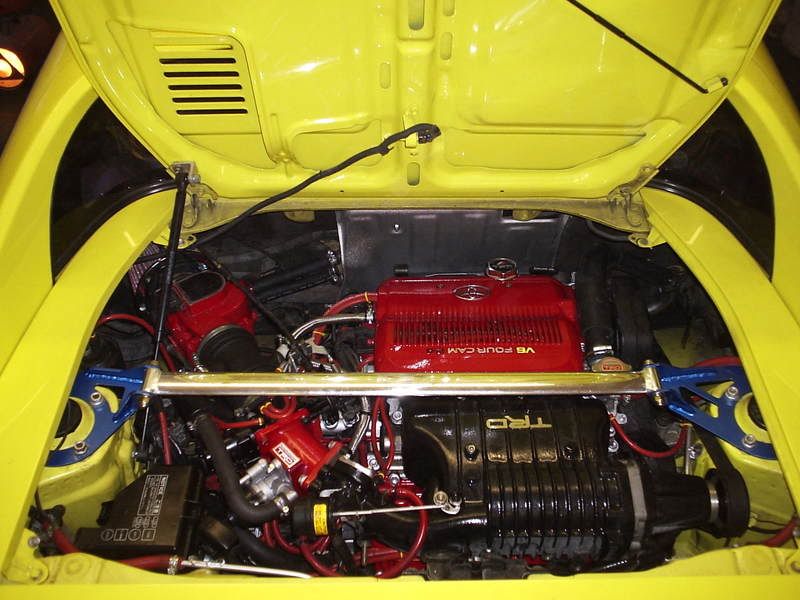 Just a handful of the Mk2 Mr2 V6 engine conversions we have completed, they total over 580 successful conversions to date.
A Woodsport Mk2 V6 at Harewood Hillclimb
[youtube:http://www.youtube.com:80/watch?v=n0Hq5pjtTHI]