Toyota MR2 Mk1 Engine Conversions
Details

Hits: 30273
Mk1 Mr2 2gr-fe V6 Conversion
This is the first time anyone worldwide has attempted this conversion, ok not quite as radical as the V8 Mk1 swap but this engine is the same unit that Lotus use in the Evora. It is 325bhp and 285lbs.ft of torque running on decatted headers.
So far we have managed to hang the engine in a Mk1 engine bay, no minor feat in itself! We had to remove part of the rear boot wall (which will have a nice access panel put back in) and also deform part of the front firewall.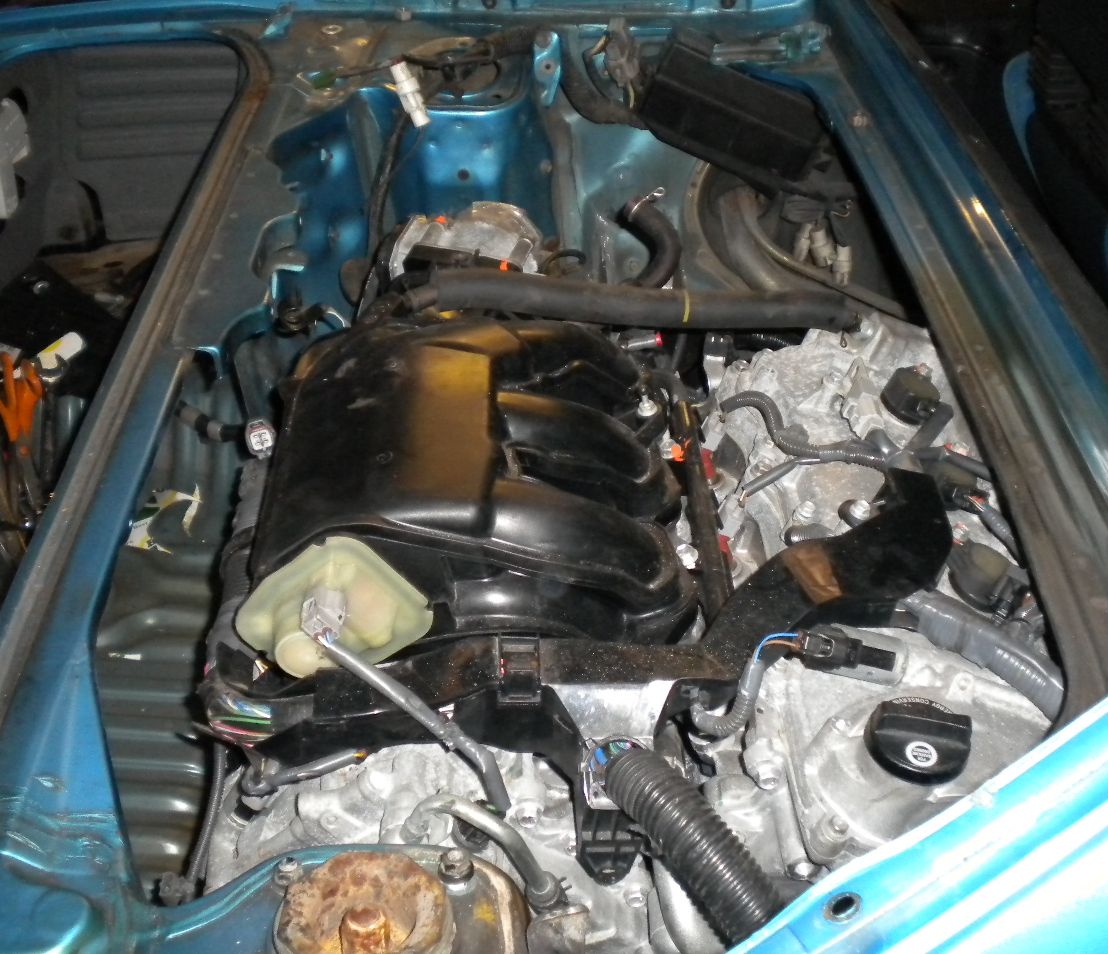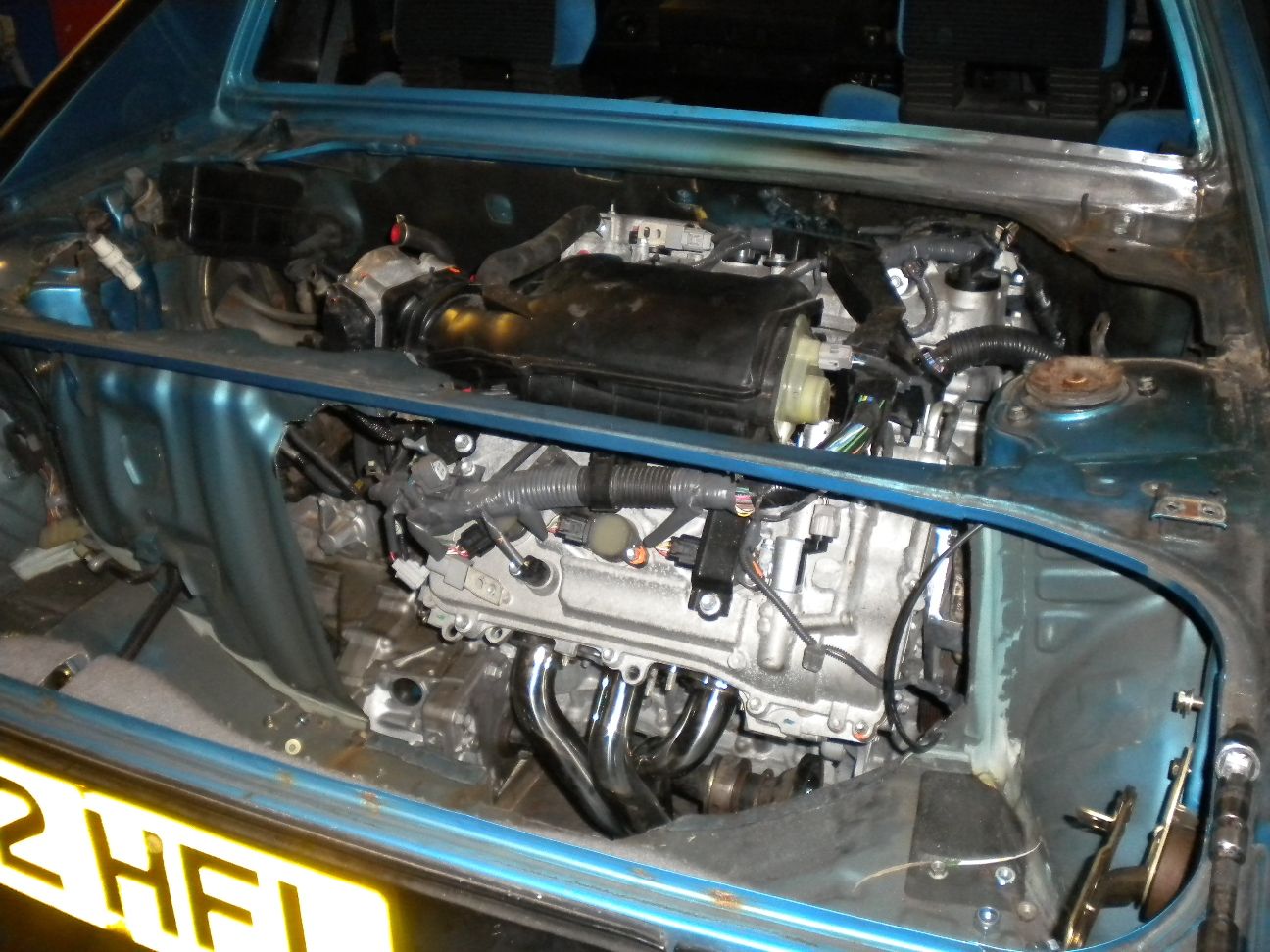 The front and rear torque mount areas on this build have also recieved major upgrades, this is a known failure point on some very high power 3s-gte powered Mk1's so we consider it crucial on a 2gr powered car. Here are both torque mounts finished and in place, these just require painting on the final build.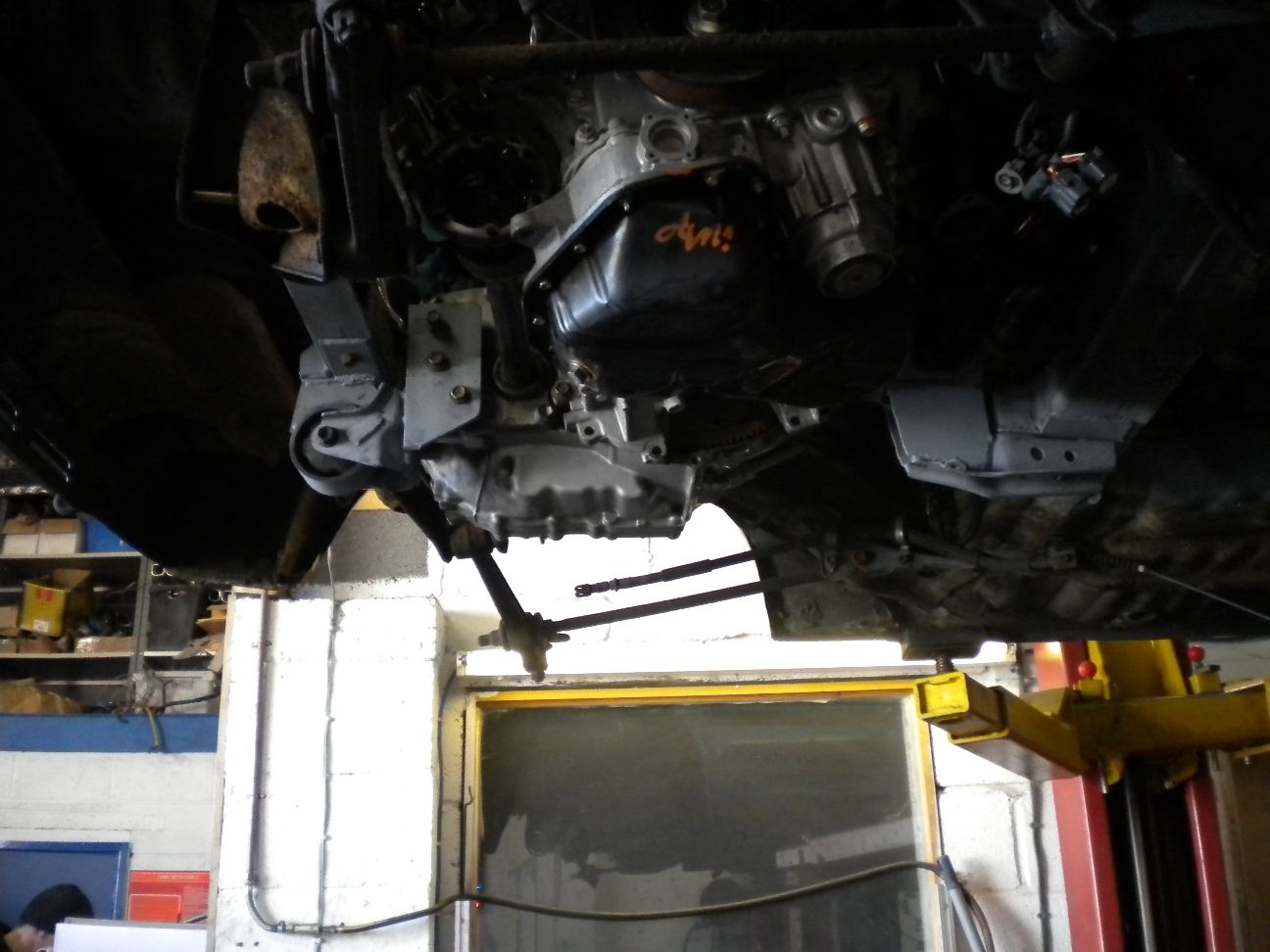 With the engine bay now painted and the engine detailed it has been hung in the car for the final time.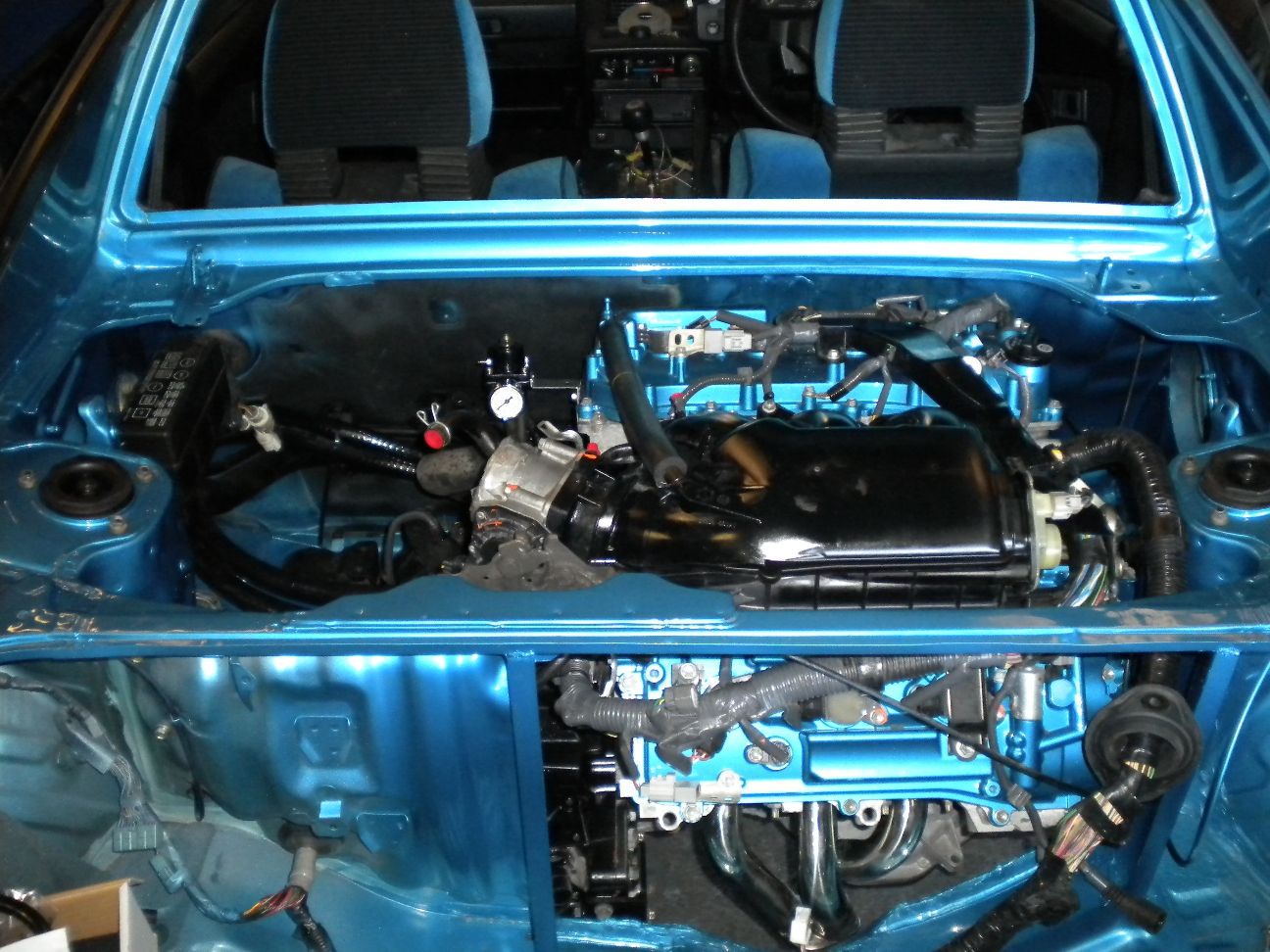 Still a long way to go but a 2gr-fe Mk1 Mr2 is now looking like a great prospect.
Update 17/3/10
The induction pipework and wiring are now complete.
More updates and upgrades are coming on this build.
Update 29/3/10
The worlds first 2gr-fe powered Mk1 Mr2 is now running.
We gave the car some vigorous shakedown testing and part of that was a little goofing around on old tyres and with the owners full permission. This is one very fast car.
Another 2gr-fe powered Mk1 Mr2 we built complete with Woodsport wide arch kit...
Details

Hits: 38203
Mk1 Mr2 2zz-ge conversion
Another first for Woodsport here and indeed in the UK, we are going to install a Corolla T-sport 2zz-ge engine into a Mk1 Mr2. This is the same engine as found in the Celica vvti 190 etc. This should retain the full revvy characteristics of the original 4a-ge engine but with no weight penalty. This one is also getting the 6 speed gearbox and an LSD upgrade.
Here is the donor 2zz-ge engine in its freshly pulled state, we have added an aftermarket exhaust manifold.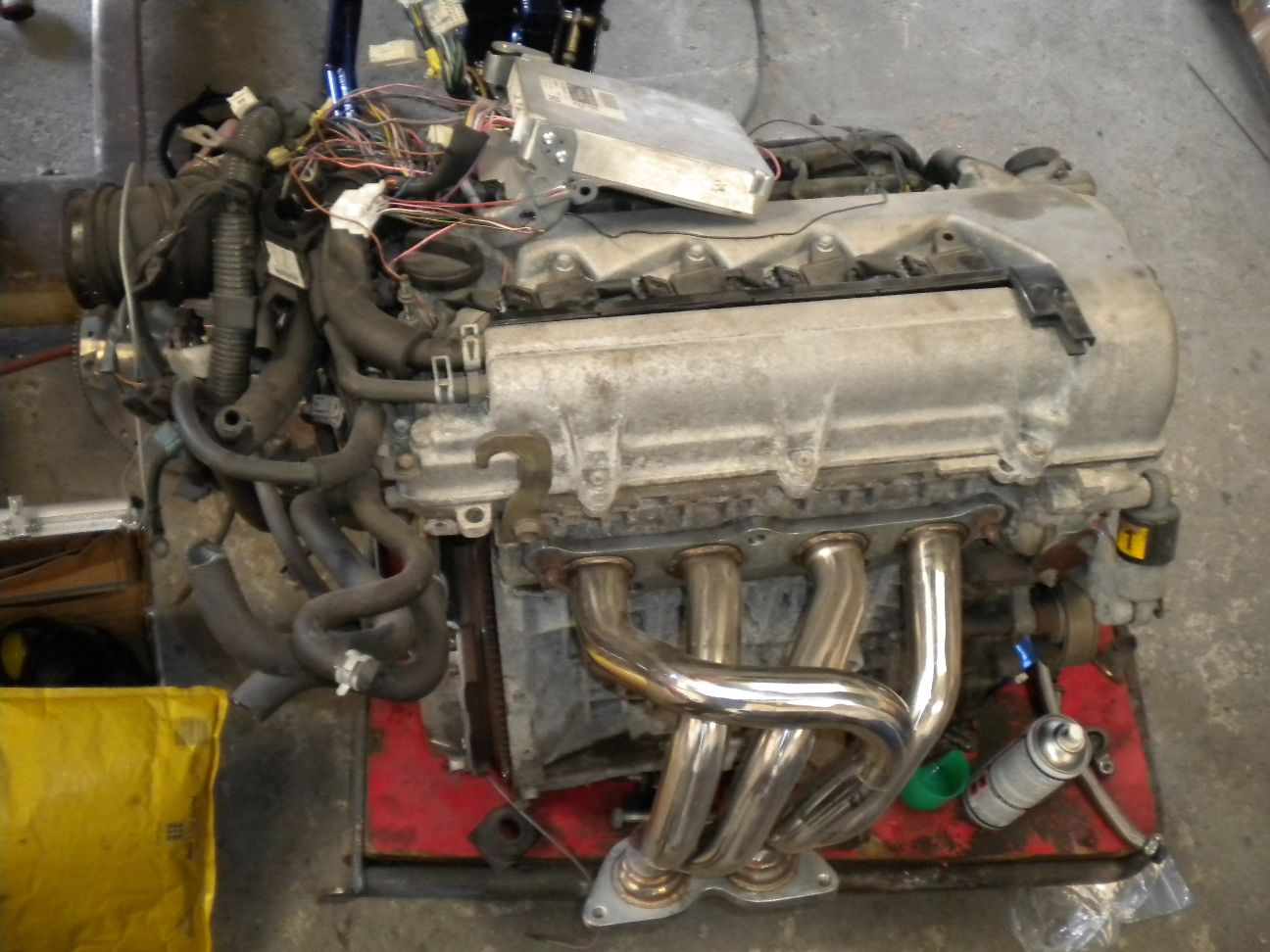 The Mk1 in question has already had its 4a-ge engine removed...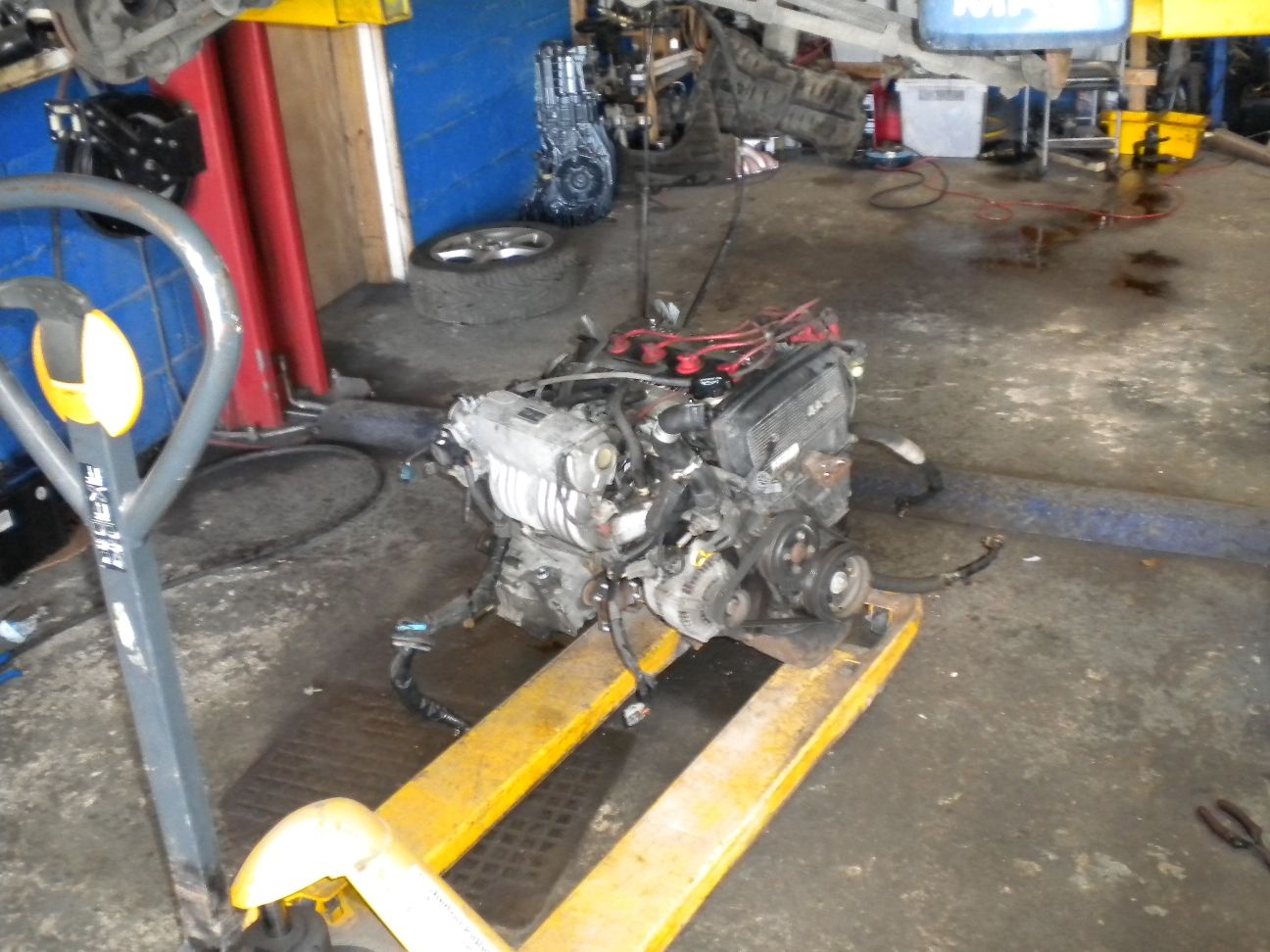 2zz-ge installed...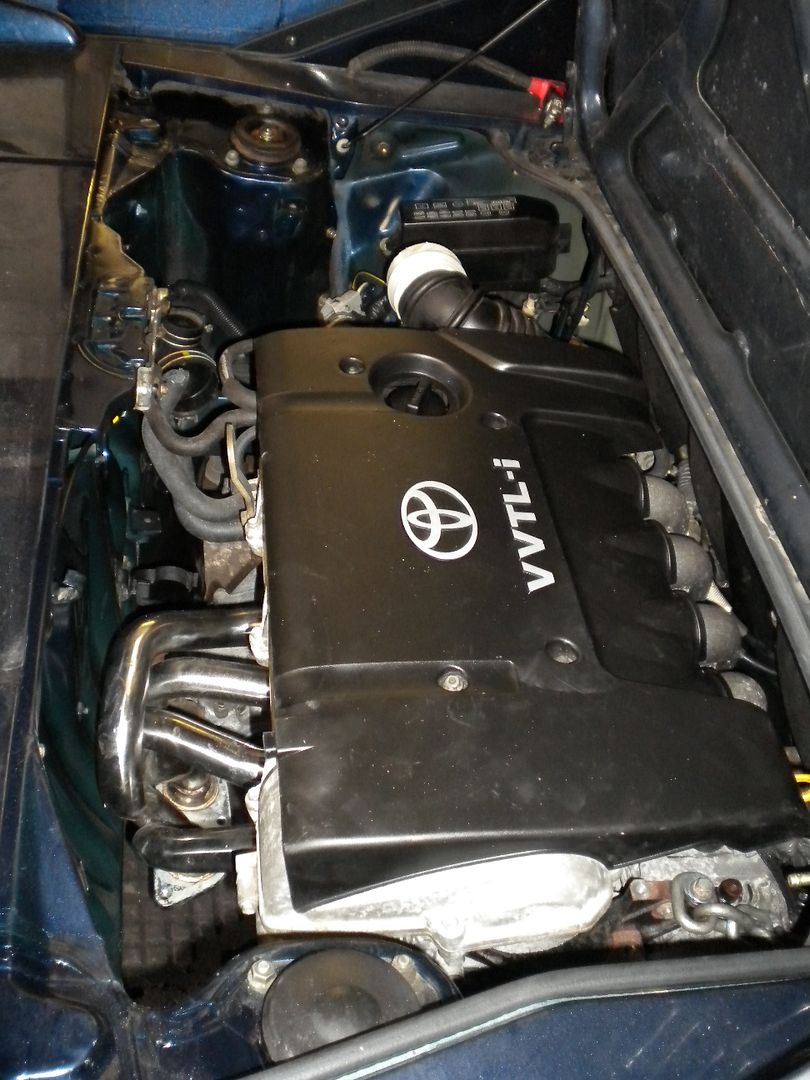 The finished conversion...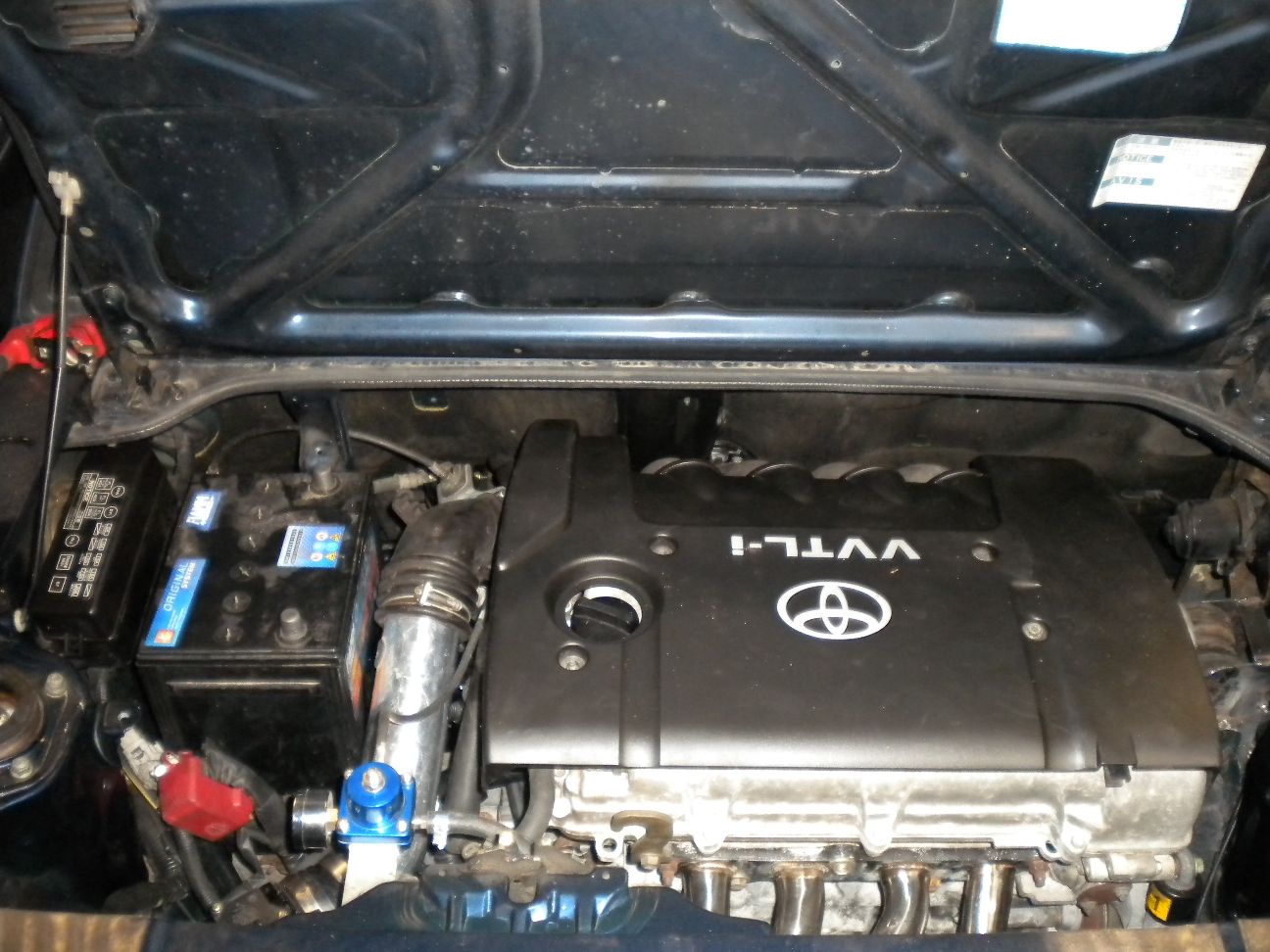 Details

Hits: 63674
MK1 MR2 with 3VZ-FE - 3 litre, 24 valve, V6
Another Q&A detailing all you need to know about this superb engine conversion. Imagine combining the refinement and torque of a V6 Camry with the sharp handling, lightweight shell of the Mk1, what you end up with is a little monster of an MR2.
What Do I Get With A Conversion?
Every conversion includes a top end rebuilt 3VZ-FE, a Mk2 NA or Turbo gearbox, drive shafts, fuel pump, engine mounts and every component needed to make the swap a reality, all supplied by us. The engine gets new head gaskets, a re shimmed valve train, new cam-belt, oil filter, gear oil and a new clutch kit.
Every engine then gets fully detailed and painted in whatever colour scheme you want. This includes a complete respray of the engine bay as well.
We can also fit the TRD supercharger unit, but these need to be sourced from the US by the customer.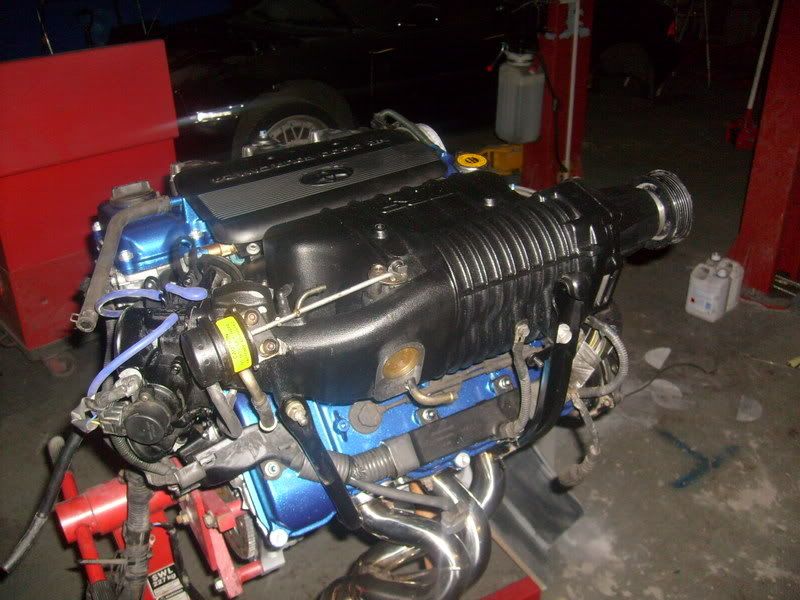 One of our 1MZ-FE v6 engines with TRD supercharger unit fitted.
All 3VZ-FE supercharged versions come with a Woodsport ISCV adapter body that ensures the stock idle control valve can still be used.No other Mr2 garage in the world fits the TRD charger to the 3VZ-FE V6, so you really do get something special.
How Much Does It Cost?
Typically we can build a Mk1 3VZ-FE V6 for around £3.500 all in, this rises to £4000 for the 1MZ-FE version and to add the supercharger to the 1MZ-FE option is free in terms of labour,to add the supercharger to the 3VZ-FE however is around £500 extra in parts and labour as it was never designed for that engine,but we can make it fit! Of course you need to add the cost of the SC itself.Usually these can be bought for under £1500 shipped from the US.
Is The Handling Affected By The Extra Weight Of The V6?
With the 3VZ-FE engine yes it is, but not as much as you'd think, in fact the difference is that it feels a lot more planted than before but we advise the upgrading of the suspension and brakes with every conversion, usually fitting koni adjustable shock absorbers and Gt4 brakes is all you need to keep the handling in check.
With the 1MZ-FE engine the handling remains practically unchanged,as it is a much lighter unit.
How Long Does A Conversion Take?
Around 4 weeks from start to finish, its probably the most involved mr2 engine conversion there is, its very labour intensive and everything needs modifying to make it fit, but a 4 week turnaround is the norm.
Will Everything Work As Before?
Everything will work exactly as before except the tacho will need recalibrating by a specialist company that we know of so that it reads the 6 cylinder signal properly, this costs around £50 and can be arranged by us.
We will have to modify the boot wall to accept the bigger engine and part of this means you get a nice access panel to the rear bank of spark plugs, something the Mk2 boys dont get with their conversions.Also the engine lid will need modifying, you will lose the engine lid catch so we will have to place the engine lid on bonnet pins or similar.
What Major Modifications Are Involved?
We need to completely remove the old engine mounts from the chassis, and then weld in new engine mounting brackets to support the weight of the new engine.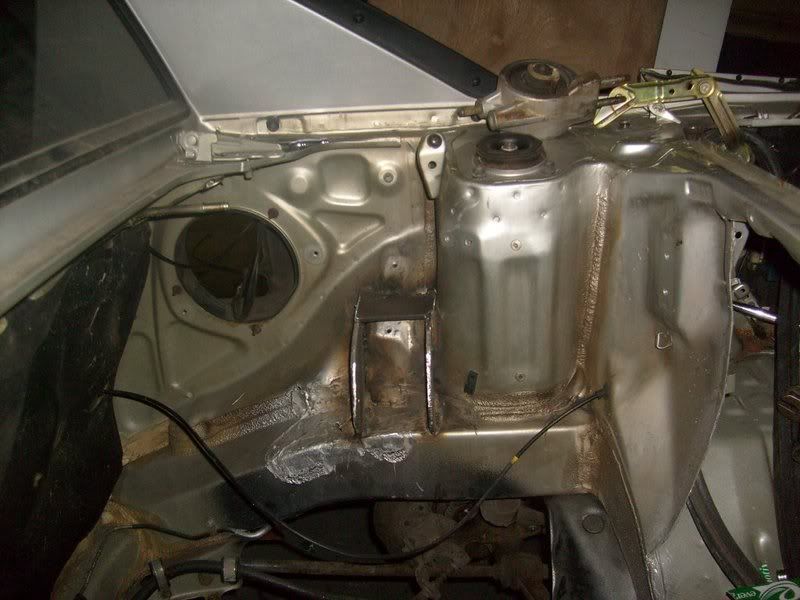 Here is a freshly prepared engine bay, all new mounts welded in,spark plug access panel at the rear (optional) and the engine bay resprayed.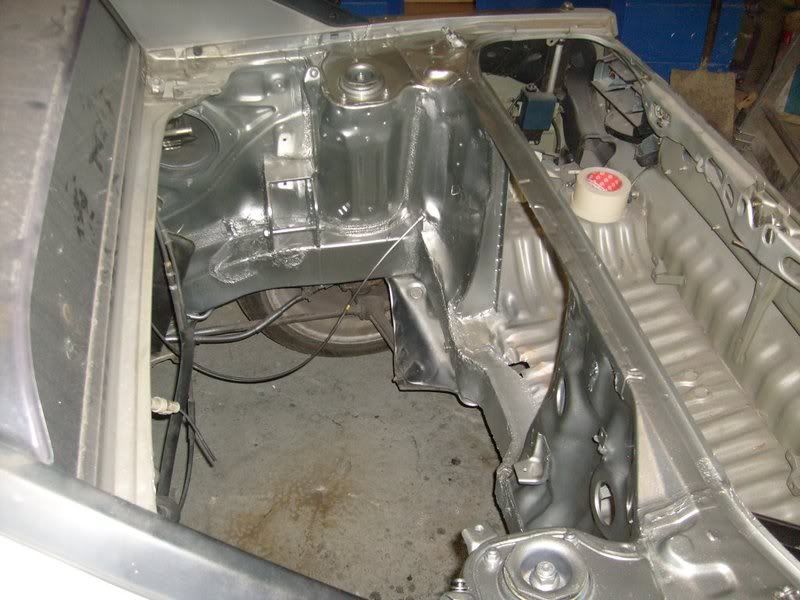 The Finished Conversion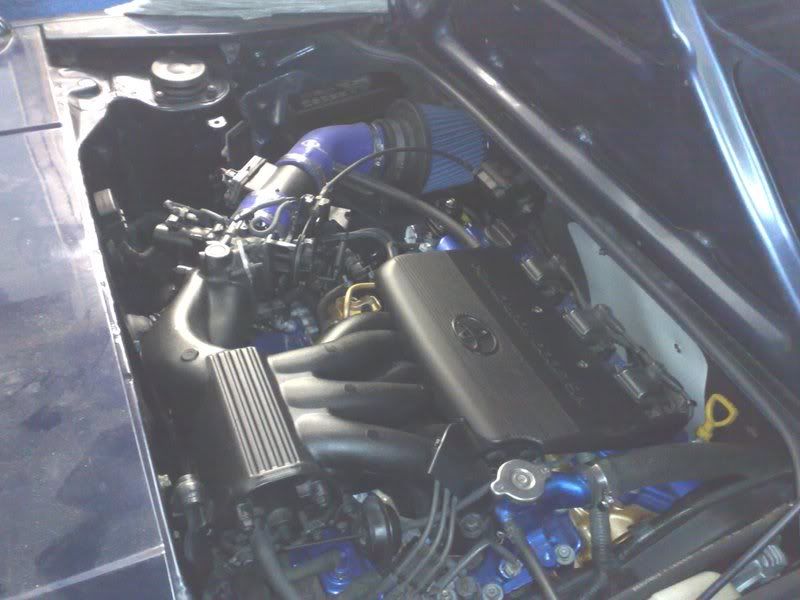 1MZ-FE above, 3VZ-FE below.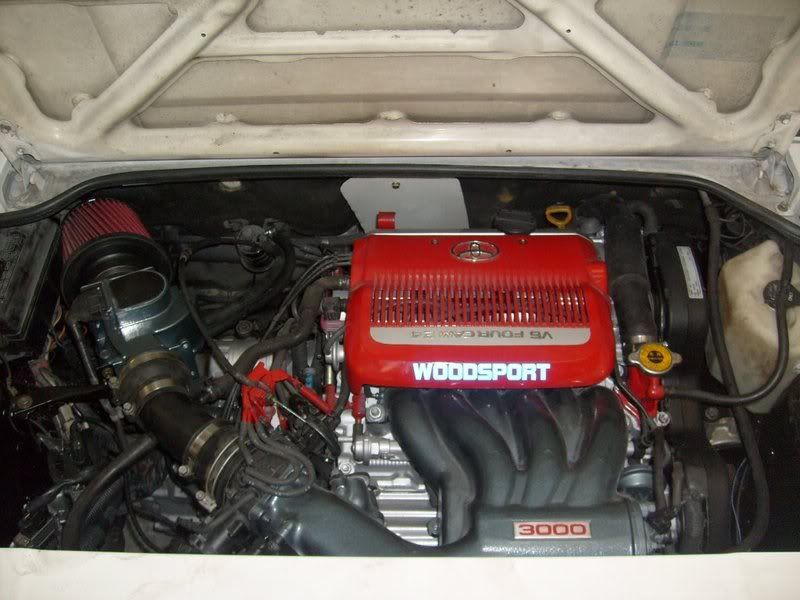 Details

Hits: 60756
MK1 with 3S-GTE (MK2 turbo power plant)

The Mk1 turbo or 1.5 is so called after Deno plumley (the first guy in the world to install a 3S-GTE Mk2 turbo engine into a Mk1) who gave it that name as he saw it as a Mk1 that had a Mk2 engine fitted so therefore a Mk1.5, so the name has stuck.
I built europes first 1.5 back in 2002 and since then there are some 20 odd UK Mk1 turbos (sept 2006) today and rapidly rising.As Mk2 turbo donor cars rapidly become a lot cheaper and the hunger for more performance grows its seen as the norm these days to do the swap rather than something special that only the select few could build or even afford.
Why go 1.5?
The 4A-GE's potential has been reached many years ago, and to get that engine to reliably produce anywhere near 170/180bhp takes a huge wallet and expectation that it may not be very long lived in such a high state of tune.A lot of people ask what about the SC route, well to be totally honest the SC isnt even in the same ballpark performance wise, they are very quick cars but the feel of a 3S-GTE hitting full boost in a Mk1 has to be driven to be believed, you just cannot compare the two in my book...as all other current 1.5 owners will testify, the 1.5 is a raw animal and can easily be tuned to ridiculous levels as we've seen in the Mk2 in the past.£ per bhp you just wont get a better upgrade for your Mk1.
Keeping the engine a Toyota unit is still very important too and theres none better in terms of tunability and raw power than the 3S-GTE.Always nice to keep an engine conversion "in house" with the same make of engine in the bay.
Most prospective Mk1 turbo owners want the power levels of the Mk2 but still want to retain the looks and handling of the Mk1, this conversion guarantees both and ticks all the boxes in terms of performance.
Power levels?
The sky is the limit really as far as the engines concerned, well 700bhp if you are brave enough! Most 1.5's run at or around the 300bhp mark giving them a power to weight ratio of roughly 270/280 bhp per ton, thats borderline supercar.Even in standard rev3 form it equates to 220bhp per ton (depending on weight of Mk1 of course)
We have however found that tuning beyond 300bhp results in traction issues even in the dry, so unless you are prepared to give the Mk1 a much bigger footprint tyre wise theres not a lot of point going much higher, although it is still possible.
Performance figures have shown a 0-60 of around 5 secs for cars running at around 270/280bhp and a private road top speed of 162mph if thats your thing! Most 1.5 owners love the acceleration on full boost, call it overtaking ability if you will, thats the number one benefit.
Whats involved?
The 1.5 swap is well documented, not least by myself back in 2002 when i decided to share the build with anyone else who was brave enough (or daft enough!) to copy it.The link to that build is here and describes the whole conversion in detail www.mr2Mk1club.com/turbo.html but the basics of it are that we take the engine and gearbox from the Mk2 turbo, relocate the alternator, fit a custom intercooler set up, slightly modify the rear boot panel to give better engine access and weld in custom engine mounts to hang the new engine onto.
These mounts are over engineered items that have been time proven and not one has ever given a problem.Each set of mounts is positioned in the Mk1 engine bay by a special locating jig that places each and every 3S-GTE engine in exactly the same position as the last.So every 1.5 that leaves woodsport shares the same engine position and attention to engineering.
We also uprate the fuel system to Mk2 turbo spec by dropping the tank and installing the Mk2 pump or gt4 or supra or even aftermarket walbro pump.
The battery is also relocated to the front compartment as it is on a Mk2, this helps even out the weight distribution and keep it as balanced as it should be.
What do i have to do?
At Woodsport we can supply 3S-GTE engines or rear clip packages, as well as carry out the complete conversion.A rear clip is a back end cut or "half a Mk2 turbo" , these can be sourced at salvage yards, japanese breakers or even ebay.Also the customer is perfectly welcome to source his or her Mk2 clip for the conversion.This will ensure you get exactly what revision and mileage units you are after rather than one supplied off the shelf as an unknown quantity.Most customers prefer to do it this way in my experience.Some prefer to buy complete running Mk2 turbos that have failed badly on MOT or even suffered crash damage, this is often the best way to get a good quality engine that can be heard and sometimes driven.
After you have sourced the clip all you need to do is arrange delivery of that and your Mk1 to woodsport and the rest is taken care of.We have a transporter agent who can travel the length of the UK at a very reasonable cost to courier cars and clips.A typical price from london to durham works out at around £200 and he offers a very professional service.We can however provide the rear clip and everything needed if you are looking for a turnkey service.
What else is needed?
The Mk2 turbo clip will contain 95% of all parts needed for the conversion, but we do need to buy other new or second hand parts to make the conversion happen.Gt4 st185 outer CV joints are needed to mate the Mk2 turbo driveshafts to the Mk1 hubs, a gt4 alternator bracket is also required to relocate the alternator....there simply isnt enough room to install the engine with the alternator in its stock Mk2 position.Other things like boost gauge, its pod, intercooler pipes, engine mount brackets, induction kit, decat pipe, boost controller and FCD are all extras that have to be added, typically around £400-£500 in extra parts that are needed.
Every 1.5 owner is advised to uprate brakes and suspension with this conversion.This can be as simple as fitting aftermarket shock absorbers like KYB's or Konis and poly bushing the suspension.Also fitting of the Mk2 turbo rear anti roll bar is a well worthy addition.The stock springs are fine and are up to the job although many lower a little.Brakes wise the simple addition of some Gt4 twin pot calipers to the front is all thats needed to keep the brakes in line with the engine upgrade.
Does everything work as before?
Yes, all of the instrument warning lights and gauges will work exactly as before including the check engine light.
Isn't the 1.5 swap heavier?
Yes, its around 40kgs heavier than the 4A-GE engined cars but its within 10kgs of a stock SC so the weight difference is negligible.
How much does the conversion cost?
Despite the huge amount of fabrication work and attention to detail a bare minimum of £1950 labour is charged for each conversion.Within that price i include a new timing belt supplied and fitted, all oils/filter and various miscellaneous items that are too many to list (p-clips, nuts, washers, jubilee clips, cable ties, wiring materials etc).
We also fit a new clutch kit for free if desired at no extra cost other than the cost of the clutch kit itself (typically £140 for a stock unit), this is seen as a common sense inclusion with every swap.
How long does each conversion take?
From the time of delivery of the Mk2 clip and Mk1 it takes approx 4-5 weeks to complete each conversion.During this time each car is generally fired up and running by the end of week 3 or 4.A further week is then taken to thoroughly roadtest and refine the conversion so that it leaves as perfect as it possibly can be.
What sort of warranty comes with the conversion?
On the workmanship  itself? lifetime! if for any reason any of the parts that have been modified on the car fail or cause another part to fail due to poor workmanship we will carry out a free repair for as long as you own the car.This covers engine mounts, plumbing, fuel system and all wiring connections.We offer 6 months no quibble warranty on everything mechanical,even consumable/perishable items like alternators and start motors.
To date the only problems conversions have had were mechanical failures that would have happened if the engine were still in a Mk2, stuff like lambda sensor or knock sensor failure, but these will all be covered under our warranty even though they are second hand items.Perishable items like clutch/battery and exhaust are obviously also not covered.In other words if you get a flat tyre dont expect a free repair!
So im guaranteeing our workmanship for life and 6 months on everything mechanical.
What level of finish can i expect?
Each and very 1.5 swap gets a detailed engine bay.This includes prepping and repainting of the engine bay and boot area.All engines are fully degreased and given a fresh coat of either clear laquer or paint to cam covers and surrounding bracketry.I also fabricate custom intercooler pipework to a very high standard that fits as toyota would intend, these too are finished in a high gloss paint of the customers choice.In fact all detailing paint work is done to order but i dont charge for a single hour of this work! the detailing work is free...i appreciate my conversions get seen at car shows/meets so i do the detailing work for free as part of my advertising if you like.
How is my insurance affected?
Insuring a 1.5 isnt as hard as it used to be, quotes range from £400-£800 depending on age and NCB.
Is there space for maintenance?
There's actually more space to change the timing belt with this engine in a Mk1 compared to a Mk2 with a Mk1 having a 2" wider engine bay.Also we fit an access panel into the boot to get at the rear of the engine where the knock sensor and t-vsv is located, these are horrible to get at on a Mk2 so this is a welcome addition.
Some completed Mk1 turbo pics

We have completed over a dozen Mk1 turbo builds to date,since building the first one in Europe back in 2002.