V8 conversions
Details

Hits: 92905
V8 engine conversions for all three marques of the MR2 coming very soon!
A V8 engine in an MR2 has been the holy grail of MR2 engine swaps for many years now with enthusiasts in the UK and US trying to find a viable way to make this a reality. The goal is not ultimate horsepower or outright performance but rather the glory in owning a V8 powered MR2, it will also be pushing 350bhp in standard form so no slouch by any means but there are easier ways to get to 350bhp using the 3S-GTE engine. However, it's not a V8 engine! The whole sound/behaviour/experience of owning such a conversion is something so special that it has been driving people for years to find an option that works.
At Woodsport we have a V8 engine and gearbox package that will work in all three marques of the MR2, all with their own varying degrees of difficulty. All three variants will require major chassis and bulkhead modifications, this will never be a drop in swap and a lot of cutting of the car will be needed to make this work, but it can be done.
This conversion will also be the ultimate package for Ferrari replica owners (using the MR2 as a donor).
Updates on this conversion will appear on this site as they happen, there are a lot of hurdles to overcome.
All subscribed members will be notified via email with updates on our progress with this.
Update 23/04/09
We have now dummy fitted the first V8 into a Mk1, it is the Audi AHC (340bhp version) with 6 speed gearbox, this engine and gearbox combination will fit into any MR2 with enough fabrication work.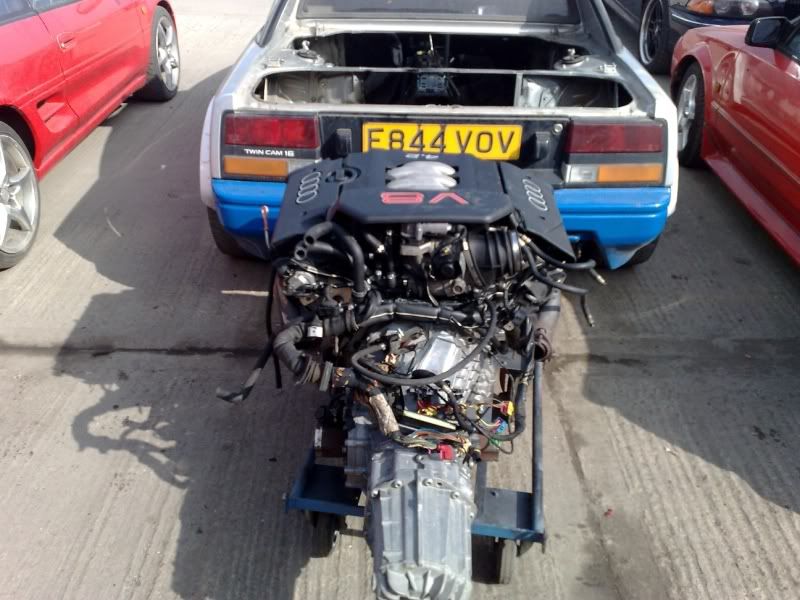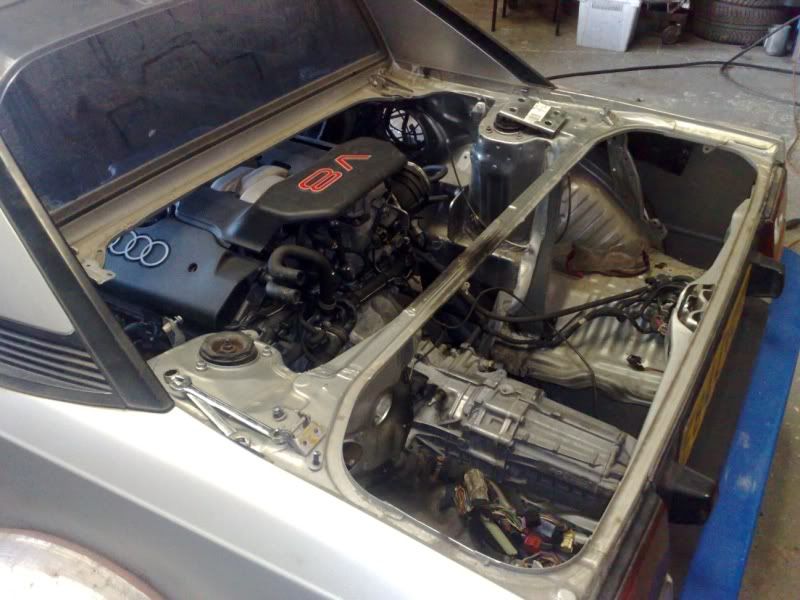 This is as extreme as MR2 engine conversions get!
Update 18/5/09
We have now sorted out the gear shift assembly at both the stick and gearbox end, all 6 forward gears plus reverse engaging as they should, this is a major milestone as we thought it would be one of the trickier aspects of the conversion. This was done using MR2 parts modified to fit the Audi selector fork.
We have also managed to sort a workable drive shaft solution, by cross referencing Toyota CV joints with Audi ones we managed to find a Toyota outer CV joint that also fits the Audi A4 driveshaft.
This has produced a complete shaft that plug n plays onto the drivers side of the gearbox. The passenger shaft was trickier, it needed to be cut and shortened but again uses the same outer CV joint as above. So both drive shaft solutions are now done, this solution will also apply to Mk2 MR2's undergoing the same conversion.
More updates to come when they happen.
Update 13/6/09
The fuel tank has now been shortened, this will be necessary on all conversions.It has been cut and shortened by about 4" at the red line.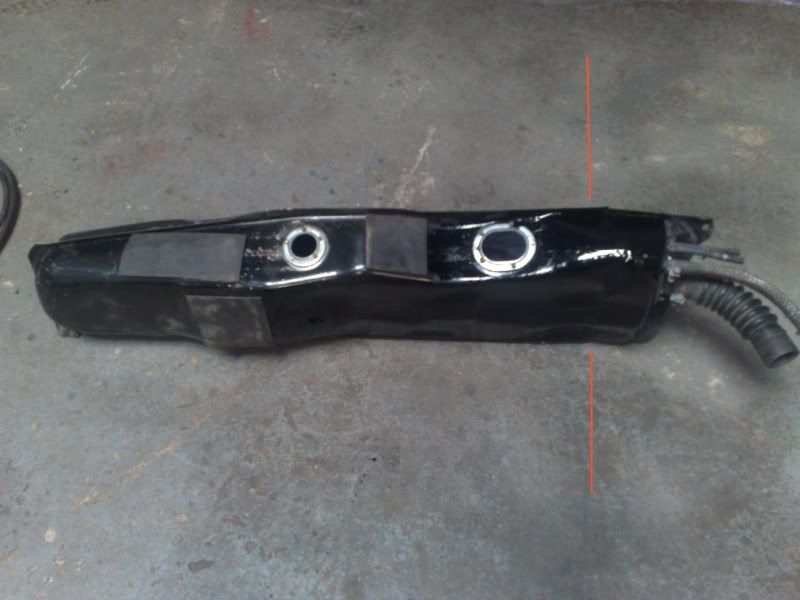 Boxing in around the new engine position has also started, this gives strength back to the bulkhead and will also provide access panels to the front of the engine. There is a lot more work to do in this area but the proof of concept works, I fitted my seat in and there is still plenty of room.
Update 11/10/2009
The V8 project has now progressed quite well and we are still on course for producing the UK's first V8 Mk1 Mr2. Work has been completed on the rear subframe which now looks more like a Mk2 Mr2 design....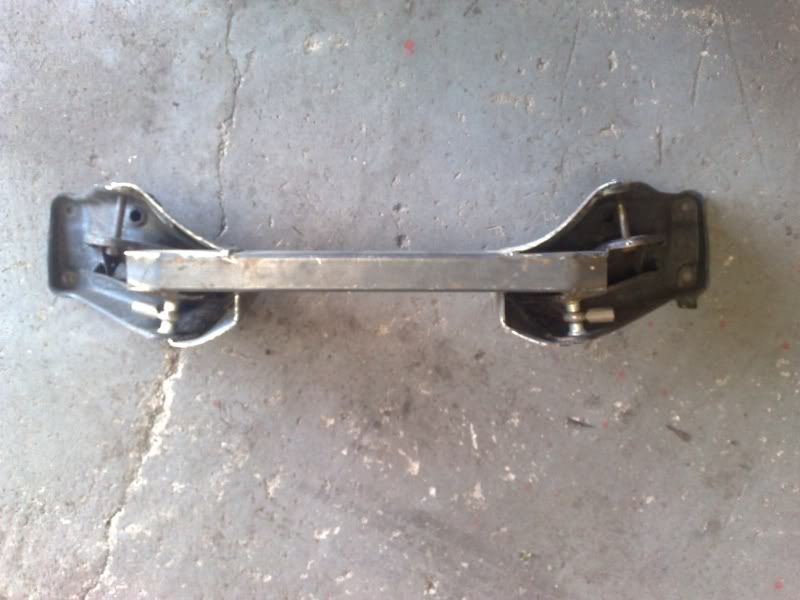 Here it is test fitted to the car, this will provide a lot more structural rigidity at the rear along with the planned rollcage.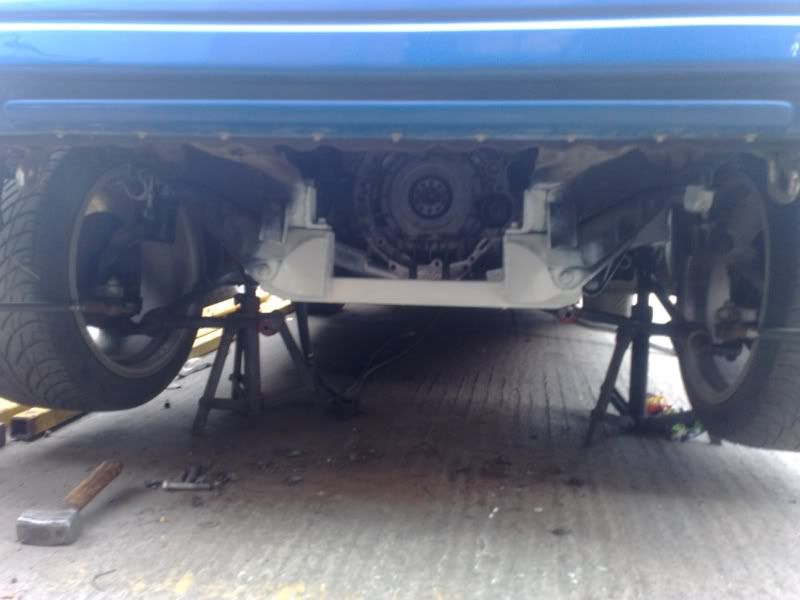 Work has also started on the exhaust system which is a TVR T350 silencer modified to fit...
We have also had the engine harness modified and VEMS ECU package sourced that will run this package.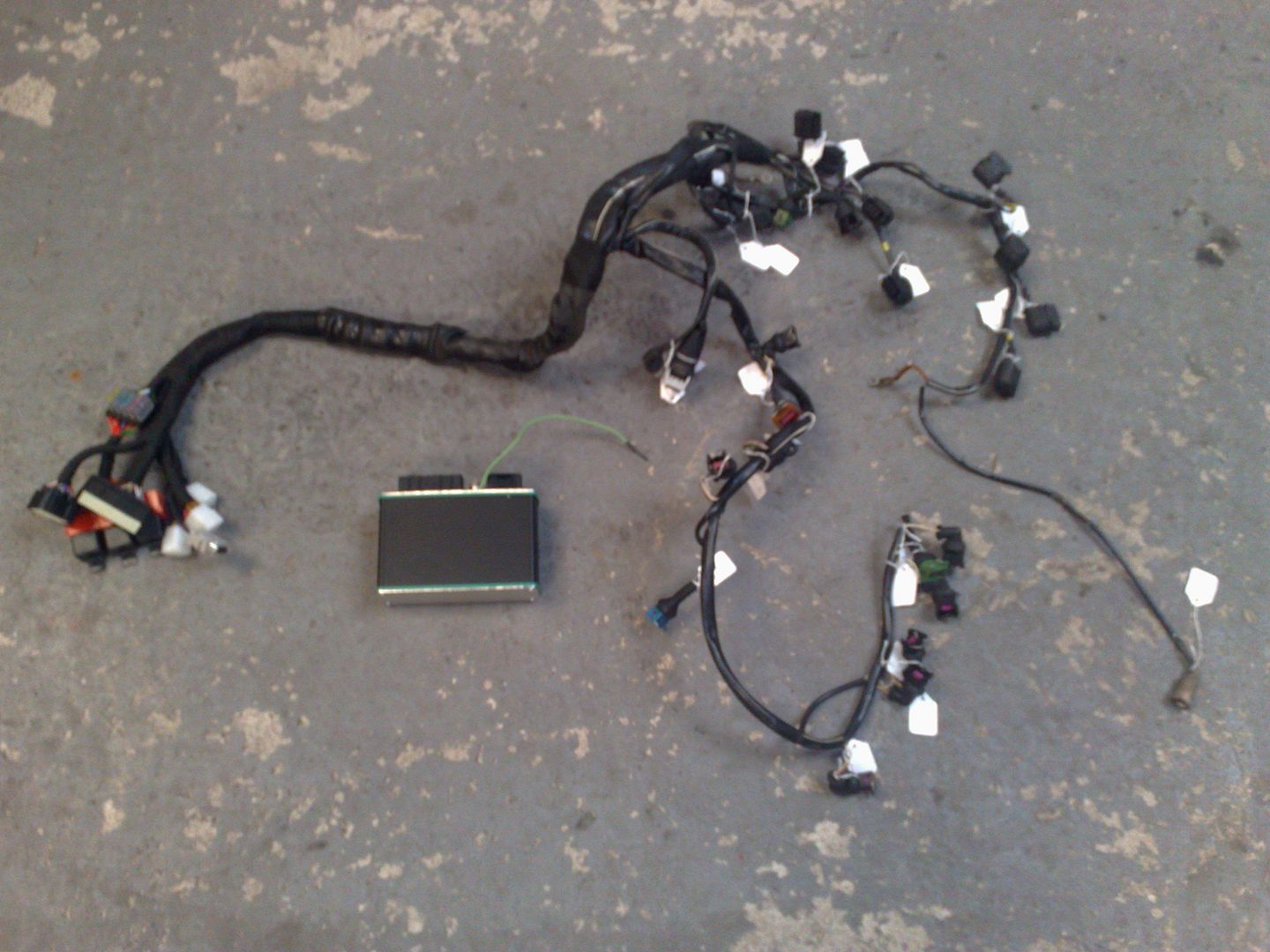 So we are not that far away from making this project a reality and achieving what many said was impossible, more updates soon.
Update 25/11/09
 Well we are proud to announce that the "MR8" is now born! We hooked up the ECU and cranked the engine for the very first time.
http://www.youtube.com/watch?v=R2VDG8uwXRE
 Still a lot to do before it is roadworthy but this is a massive achievement for us.
Update 5/4/10
The V8 engine has now been removed for final detailing and engine bay preparation. The front firewall has now been heatproofed and all Evap,fuel and servo lines hard piped around the bay.
The engine now detailed to the usual Woodsport standard and nearly ready for final fitting...
Exactly the same attention to detail will go into every customers build.
Some arty pics of the complete V8 engine now ready to fit for the final time...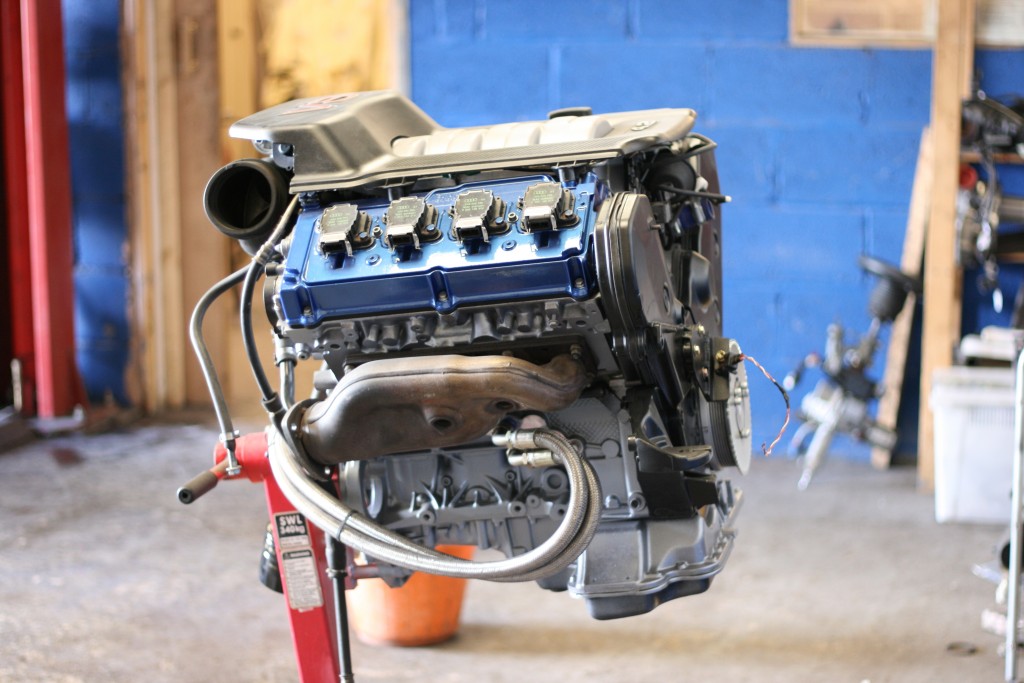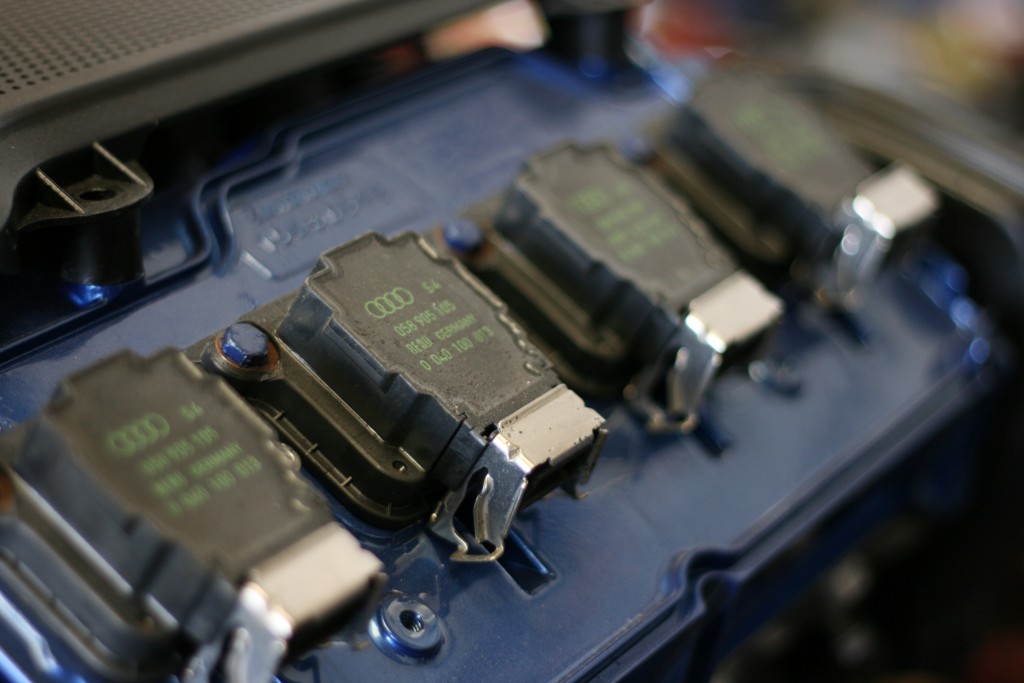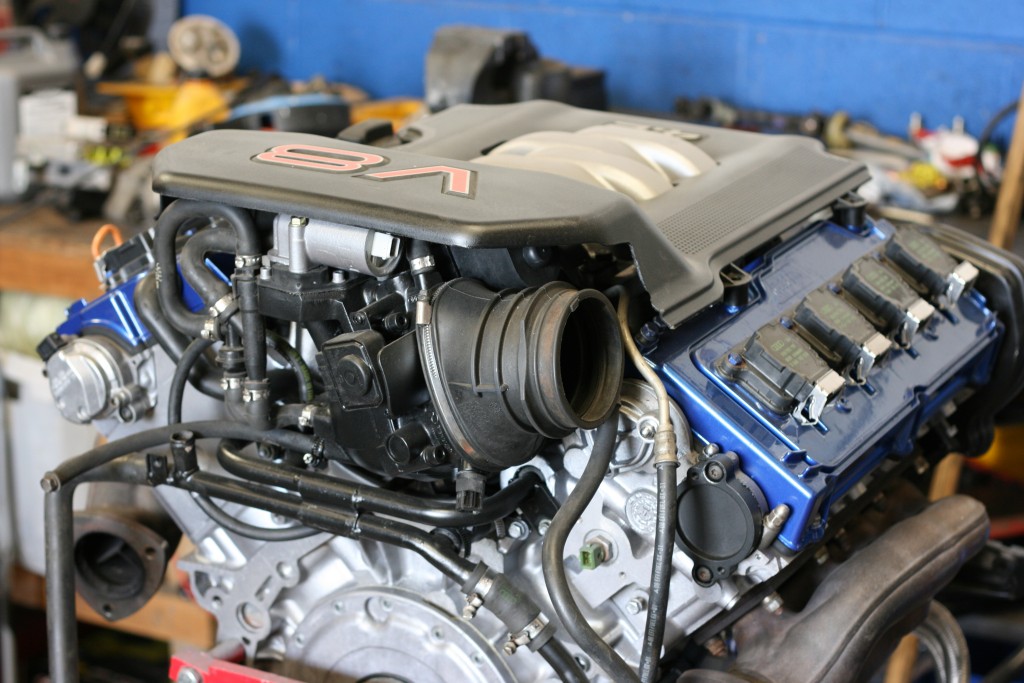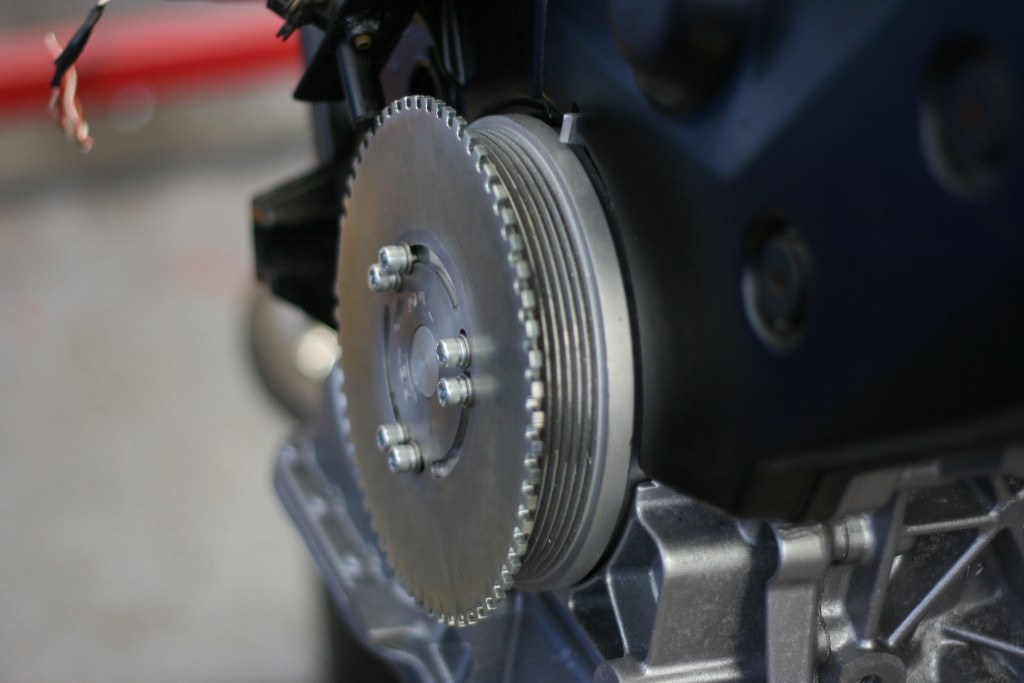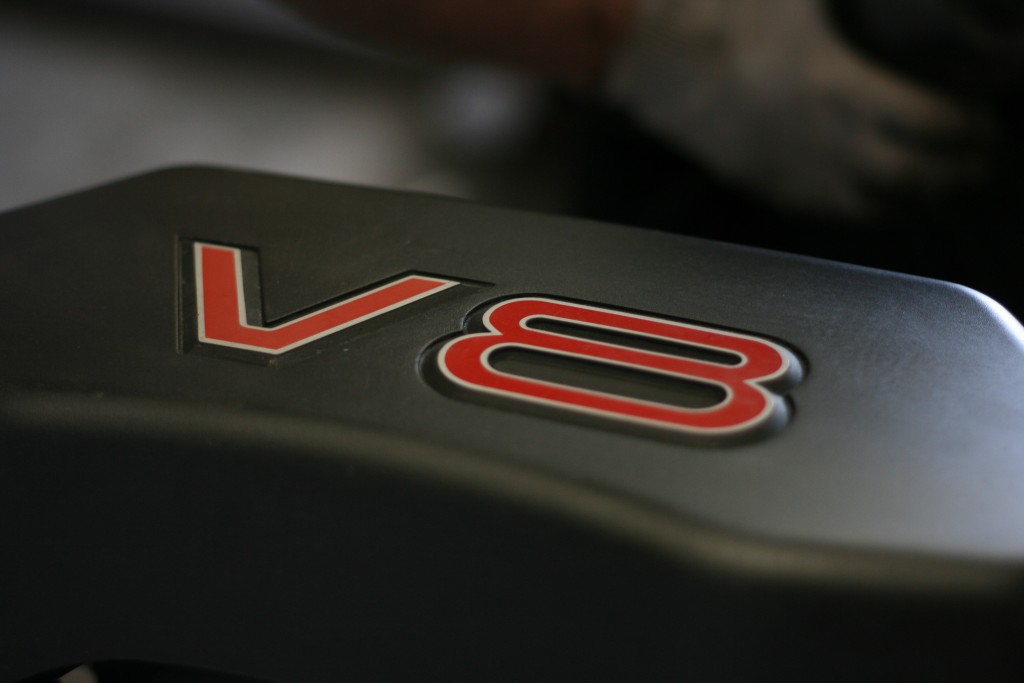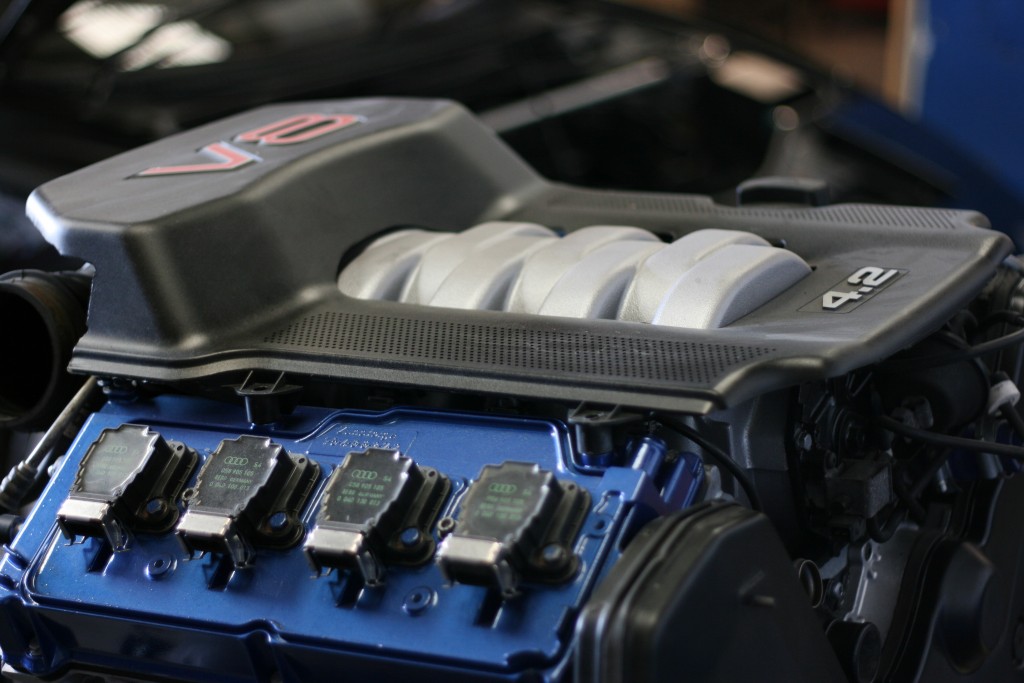 Update 1/6/10 
The V8 is now back in the car for final fitting and tuning.
All of the custom subframes and mountings now added.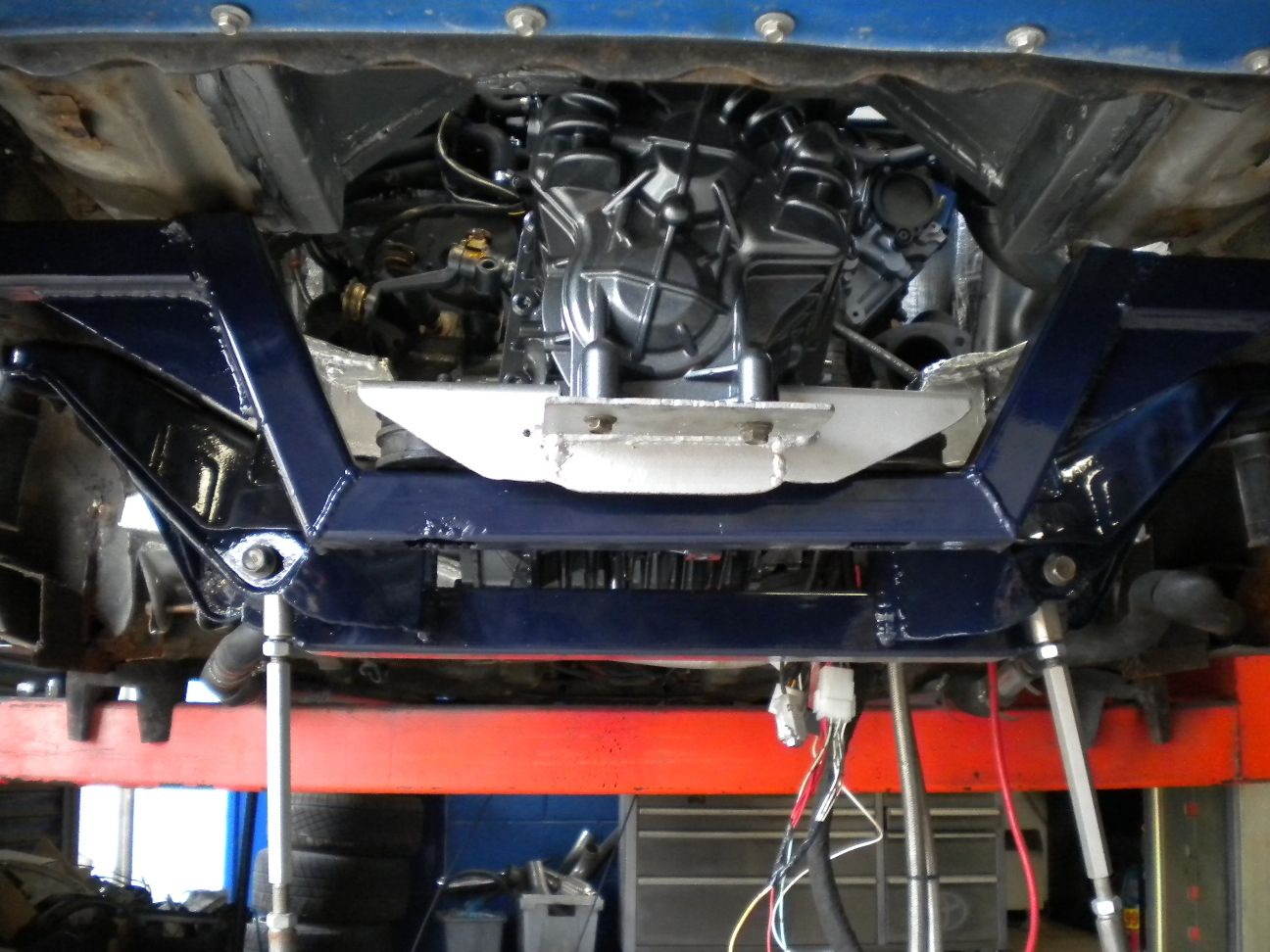 Induction pipework and oil filter relocation kit also fitted.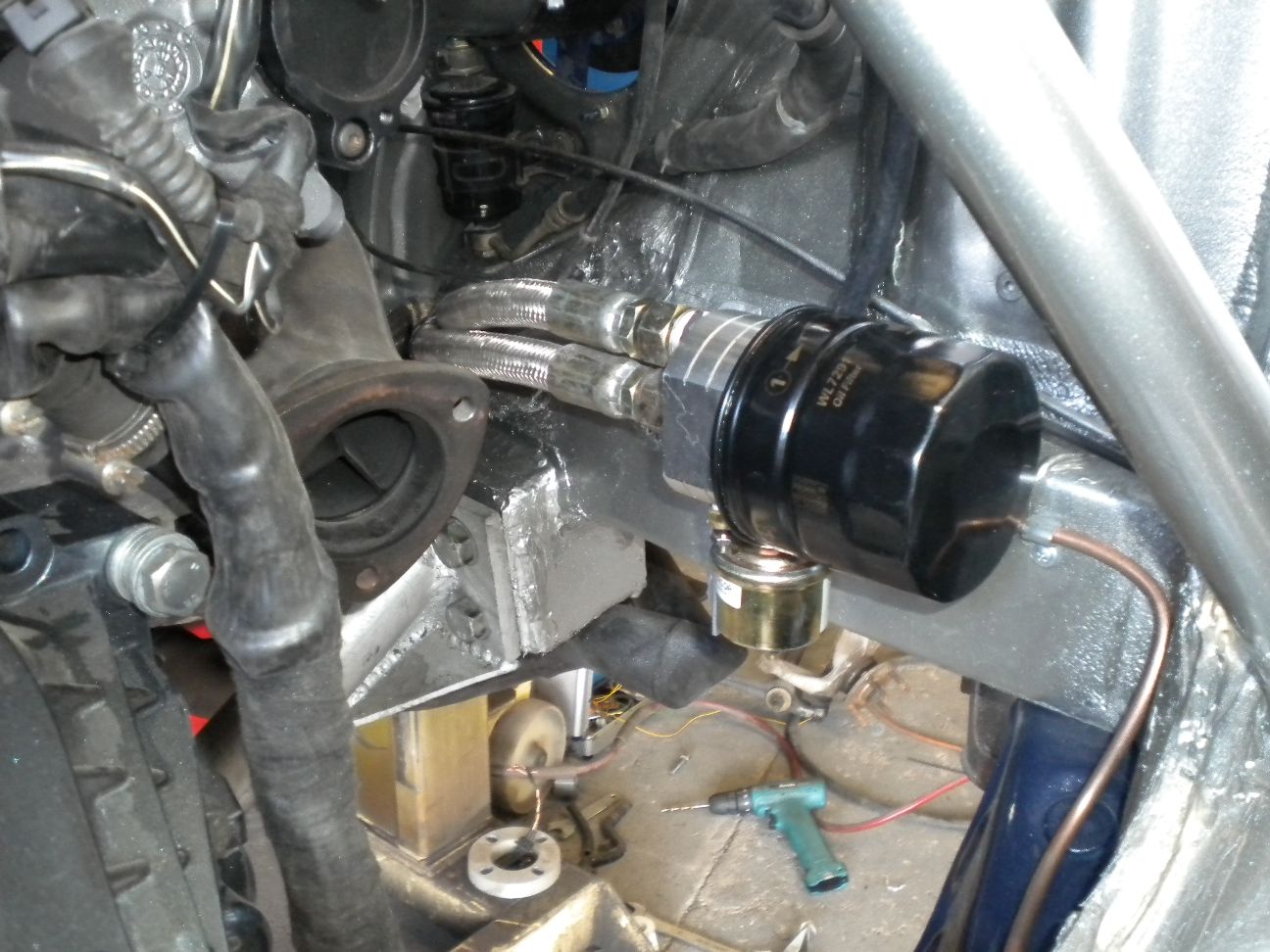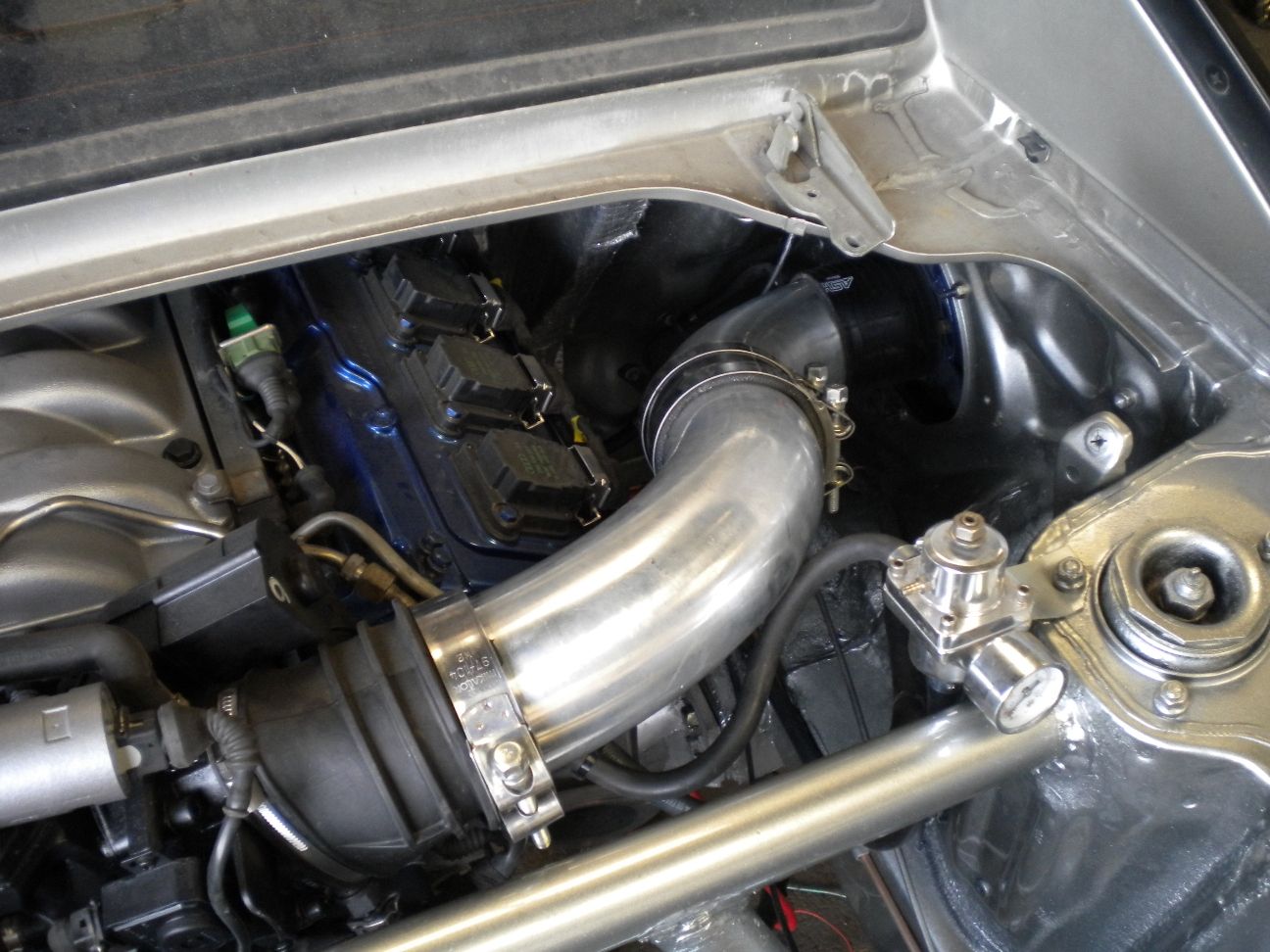 Final tweaking and setting up is all that remains of this conversion. 
Update 28/09/10 
The mechanical aspect of this conversion is now 100% completed, and the car has been driven for the first time. We are now in the "let's try and break something" phase to fully test it before it ever sees the road. Video of this first stage of testing is below, and of course it's good fun!
Having proved this conversion works, very well in fact! We are now offering the same conversion for all 3 marques of the Mr2, please enquire directly by phone or email about the costs and options involved. Obviously a V8 Mr2 is the pinnacle of what owners are looking for, especially Ferrari and Lambourghini  replica owners, so we aim to cater for anyone thinking of fitting these kits.